Video over IP Products Integrated into Milestone's XProtect IP Video Management Suite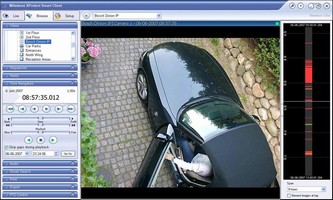 Bosch and Milestone strategic alliance extends joint solution in IP video surveillance

o Milestone extends support for Bosch Video over IP cameras and encoders
o High performance 30 FPS at 4CIF interlaced video support
o Free demo package for installers

Bosch Security Systems and Milestone Systems have strengthened their strategic alliance by extending the range of integrated hardware and software products.

Bosch Security Systems is a global leader in IP cameras and encoders. The IP cameras are based on the award-winning DInion, FlexiDome and AutoDome Modular cameras. Milestone's XProtect IP video management suite is one of the market-leading open platform IP video management system, with an extensive global presence.

The Bosch-Milestone strategic partnership extends the list of integrations to include Bosch's single-channel VIP X1 and twin-channel VIP X2 encoders running at full frame rate at 4CIF as well as its complete line of IP cameras.

As part of the launch, Bosch and Milestone have released a Milestone-Dinion IP promotion demo package. This free-of-charge, single-camera license package can be downloaded from the internet and used by installers to demonstrate the full power of the combined solution - Bosch's IP encoders and Dinion IP cameras with Milestone's XProtect Professional video management solution.

Contact person for press inquiries:
Bosch Security Systems
Marijke Raaijmakers
P.O. Box 80002
5600 JB Eindhoven
The Netherlands
Phone: +31 (0)40 257 71 85
Fax: +31 (0)40 257 71 19
E-mail: marijke.raaijmakers@nl.bosch.com

The Bosch Group is a leading global supplier of technology and services. In the areas of automotive and industrial technology, consumer goods, and building technology, some 260,000 associates generated sales of 43.7 billion euros in fiscal 2006. The Bosch Group comprises Robert Bosch GmbH and its roughly 300 subsidiary and regional companies in over 50 countries. This worldwide development, manufacturing, and sales network is the foundation for further growth. Bosch spends more than three billion euros each year for research and development, and in 2006 applied for over 3,000 patents worldwide. The company was set up in Stuttgart in 1886 by Robert Bosch (1861-1942) as "Workshop for Precision Mechanics and Electrical Engineering."

The special ownership structure of Robert Bosch GmbH guarantees the entrepreneurial freedom of the Bosch Group, making it possible for the company to plan over the long term and to undertake significant up-front investments in the safeguarding of its future. Ninety-two percent of the share capital of Robert Bosch GmbH is held by Robert Bosch Stiftung GmbH, a charitable foundation. The majority of voting rights are held by Robert Bosch Industrietreuhand KG, an industrial trust. The entrepreneurial ownership functions are carried out by the trust. The remaining shares are held by the Bosch family and by Robert Bosch GmbH.

Additional information can be accessed at www.bosch.com.

Milestone Systems

Milestone Systems is one of the leading global providers of open platform IP video surveillance management software. The advanced Milestone solutions for networked digital video surveillance continue to be on the forefront of developments in the security software industry, sold and implemented through an international channel of partners. These efforts have garnered more than 24,500 satisfied customers in a wide spectrum of businesses worldwide.

In addition to the indirect sales channels from the reseller partners, Milestone also has agreements with a number of key alliance partners who use its technology in their products, as their Original Equipment Manufacturer (OEM). Such relationships represent important opportunities for increased revenues, while underlining the technological expertise for which Milestone is so highly respected in the marketplace.

More from Packaging Products & Equipment