Video Measuring System offers stage scale resolution to 0.01µm.
Press Release Summary: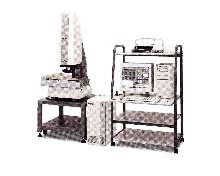 NEXIV VMR-H3030 utilizes VMR-Z120X Maximum Magnification Module with magnifications from 36-4,320x. Through-the-lens laser focusing system allows user to scan complex profiles of 3D precision parts at 1,000 points/sec. The 15x Telecentric Zoom System facilitates searches at low magnifications. Software provides intelligent search functions that eliminate possible measurement errors, and multi-pattern search function, which automatically corrects part-to-part variations.
---
Original Press Release:

Nikon Delivers Maximum Precision and Resolution with the New NEXIV VMR-H3030


Expanded Magnification, Extended Work Range Provide The Most Advanced Video Measuring Available

MELVILLE, N.Y., July 16, 2003 - Nikon Instruments Inc., a world leader in microscope and advanced digital imaging technology, today announced the introduction of the VMR-H3030, the latest model in the NEXIV line of measuring instruments. The fastest, most precise video measuring tool available, the NEXIV VMR-H3030 provides unsurpassed resolution and expanded work range ability.

The VMR-H3030 is built to serve as a laboratory's master instrument. It offers superior measurement and versatility through the newly released VMR-Z120X Maximum Magnification Module, a dual optical system that delivers a range of magnifications from 36X to 4,320X. This advanced optical system provides a wide range of solutions from semiconductor wafer applications to mechanical geometric features. Confidence in inspection is maximized as the VMR-H3030 offers stage scale resolutions that have been enhanced to 0.01 µm and wide illumination options to ensure precise detection of edges in complex parts.

From complicated and demanding measuring tasks to simple searches, the VMR-H3030 is equipped with advanced technology to manage a wide-range of inspection duties including NEXIV'S unique through-the-lens (TTL) laser focusing system, which allows users to fully utilize the powerful optics to scan at 1,000 points per second on complex profiles of 3D precision parts and a 15X Telecentric Zoom System that facilitates easy searches at low magnifications.

The NEXIV VMR system's user-friendly software features interactive measurement wizards, which can be customized by each operator for future use. Intelligent search functions eliminate possible measurement errors and a multi-pattern search function automatically corrects part-to-part variation along with deviations in expected edge or feature locations. NEXIV also features a pattern matching measurement system that determines coordinate values for features too difficult to measure in the normal geometric measuring mode.

About Nikon Instruments Inc.
Nikon Instruments Inc., world leader in microscope and advanced digital imaging technology, is committed to providing its customers with quality products for bioscience research and industrial applications; high-performance semiconductor wafer handling and inspection equipment; and advanced high-speed, vision-based and optical measuring tools. For more information, visit the Nikon Web site at www.nikonusa.com and nexiv.net. Product related inquiries can be directed to Nikon Instruments at 800-52-NIKON.

More from Electrical Equipment & Systems