Video Inspection System offers magnification from 27-211x.
Press Release Summary: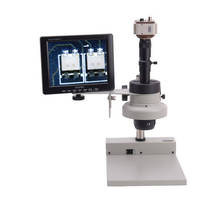 Incorporating 8 in. LCD monitor and 1/3 in. color CCD camera, VIS-745 performs precision inspection, measurement, and documentation for R/D centers, assembly operations, medical research, and science labs. System offers choice of fluorescent illumination or 150 W fiber optic illuminator with ring light. Video lens, monitor, and camera can be mounted on pole stand or on dual-arm boom stand. With optional USB link and iGauge Lite software, viewing and measurement can take place on PC monitor.
---
Original Press Release:

Advanced Features Enhance Video Inspection



Aven's Integrated Systems Offer High-Magnification Choices

ANN ARBOR, MI - Oct. 26, 2009 - Precision inspection, measurement and documentation can be performed efficiently by a single system with a wide magnification range, LCD monitor and camera.

The VIS-745 video inspection system from Aven, Inc. integrates those features for high-magnification applications in R&D centers, assembly operations, medical research and science labs. Four lens settings allow monitor display of images magnified 27x to 211x.

An eight-inch LCD monitor is mounted at eye level for easy viewing without neck or back strain. Alternately, an optional USB link and iGauge Lite software from Aven allow viewing and high-accuracy measurement on any PC monitor.

The four-model VIS-745 line offers a choice of fluorescent illumination or a 150-watt fiber optic illuminator with ring light. The video lens, monitor and 1/3-inch color CCD camera can be mounted on a standard pole stand (shown in photo) or on a dual-arm boom stand.

The Michigan-based global instrument supplier also offers four VIS-750 models for users needing microscope-based video inspection.

This line, which includes the eight-inch LCD monitor, has a stereo zoom scope with a 10x eyepiece that magnifies from 6.7x to 50x. Four optional lenses provide alternate ranges up to 200x. (Monitor magnification is 14x to 105x.)

A diopter adjustment on the vertical tube allows fine adjustment. Operators wearing glasses benefit from wide-field eyepieces with 17mm-high eye points, which assure comfortable use.

The systems are useful for critical inspections of circuit boards, welds, tubes, hoses, precision parts and other manufactured products in a quality control lab or on the assembly floor. Users can detect and document gaps, hairline cracks, fractures or other microscopic defects.

In research applications, the VIS-745 and VIS-750 can evaluate prototypes, perform medical and pathology lab work, work in scientific studies and cataloging, support law enforcement and forensics investigation, and be used in educational settings.

For more information, call Aven at (734) 973-0099 or visit www.aveninc.com.
Aven will exhibit at the Productronica 2009 international trade fair in Munich, Germany, from Nov. 10-13, 2009.

Aven, Inc. is an international source of high-performance precision tools and optical inspection systems. Product lines include alignment tools, video inspection systems, magnifiers, precision knives, pliers and cutters, illumination equipment and other workbench solutions.

An electronics innovator since 1983, Aven is located in a high-tech corridor of Southeast Michigan and is the parent company SharpVue, which designs and manufactures integrated digital microscope technology.

More from Controls & Controllers