Video Inspection Crawler performs full-speed scanning.
Press Release Summary: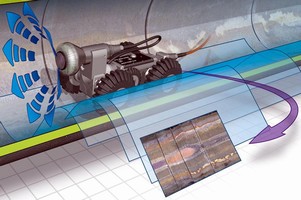 ROVVER crawlers are available with DigiSewer(TM) digital visual sidewall scanning (DVSS) camera, which enables full-speed, Hi-Res pipeline inspection. By grabbing one frame of video at established intervals, DigiSewer generates complete sidewall scan whose length corresponds to length of pipe and height corresponds to pipe's full circumference. Scans load directly into freeware viewer on any PC for analysis with zoom as well as direct scan measurement and annotation capabilities.
---
Original Press Release:

Patented New Digisewer(TM) Sidewall Scanning for ROVVER Streamlines Pipe Inspection, Enhances Detail.



Randolph, New Jersey-May 1, 2007-Designed specifically for ROVVER video inspection crawlers, DigiSewer digital visual sidewall scanning (DVSS) from Envirosight enhances the speed and detail at which pipeline inspection is performed. In a single day, a DigiSewer-equipped crawler can scan extensive networks of pipe at full speed. When scanning is complete, a supervisor rapidly analyzes these scans using a freeware viewer, zooming in on areas of interest for greater scrutiny, and making measurements and annotations directly on the scan.

DigiSewer uses patented technology to generate a high-resolution sidewall scan. The proprietary DigiSewer camera mounts to any ROVVER crawler. As the crawler advances down a pipe, the camera grabs a frame of video at established intervals. From each frame, a ring of pixels representing a fixed-width cross-section of the pipe wall is digitally extracted and unfolded into a tall rectangle by the DigiSewer CPU. As scanning progresses, the DigiSewer CPU joins these rectangles together to form a complete sidewall scan, one whose length corresponds to the length of the pipe, and whose height corresponds to the pipe's full circumference.

DigiSewer accelerates data capture. A DigiSewer-equipped ROVVER crawler can traverse an entire pipeline at full speed, capturing consistent detail from every square inch of the pipe's interior wall. The operator never needs to slow the crawler to scout for defects; never needs to pan, tilt or zoom the camera; and never needs to stop to type an observation.

DigiSewer also streamlines inspection analysis. Unlike the videotape and DVDs generated by traditional CCTV inspection, DigiSewer scans take minutes-not hours-to review and annotate. They load directly into a freeware viewer on any PC, allowing rapid browsing of scan thumbnails, as well as detailed analysis, measurement and annotation of problem areas. And because DigiSewer scans require only a fraction the storage/transmission bandwidth of digital video, they are much easier to share and archive.

"DigiSewer ushers CCTV inspection into the digital age," said Richard Lindner, President of Envirosight, LLC. "By freeing operators from the constraints of linear video, DigiSewer offers tremendous gains in both the capture and analysis of inspection data. Municipal managers can now make maintenance decisions much more rapidly, and they can base those decisions on much more detailed information."

Best of all, DigiSewer leverages a municipality's existing investment in CCTV inspection technology. DigiSewer integrates seamlessly with ROVVER inspection crawlers, cable reels and controls. It also links directly to WinCan, which means you can assign an observation to a scan that links back to WinCan data, as well as place scan segments directly into WinCan reports.

About ROVVER. Trusted for nearly 20 years, ROVVER crawler systems boast a modular design that allows quick reconfiguration for any combination of pipe size, material and condition. Steerability and short wheelbase allow ROVVER crawlers to navigate past debris and obstructions, climb offsets, and pass through inverts and curved access points. Three chassis sizes allow inspection of pipelines 4" to 60" diameter. The ROVVER line also offers a fully automatic cable reel, which uses a precision tension sensor to reduce the pulling burden on the crawler (thus extending inspection range), as well as to prevent cable tangles during backward crawl. Compact in size and drawing less power, ROVVER systems are also more portable and require substantially less operational overhead.

About Envirosight, LLC. Randolph, New Jersey-based Envirosight, LLC provides video pipeline inspection solutions to municipalities, contractors, departments of transportation, and civil/environmental engineers. Envirosight is committed to ongoing innovation, delivering products that enhance user productivity and inspection detail. Envirosight serves customers through a trained network of regional sales partners who deliver localized support and expertise with rapid turnaround. All Envirosight technical employees hold NASSCO PACP certification. Visit Envirosight online at www.envirosight.com

More from Services