Video Extensometer performs non-contact strain measurement.
Press Release Summary: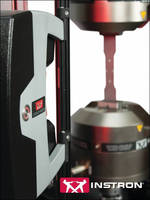 Able to adapt to normal fluctuations of environmental conditions in lab and compatible with testing machines that uses ±10 V analog input, AVE 2 measures both modulus and strain to failure for diverse materials. Fully integrated device, which utilizes real-time 490 Hz data rate while achieving 1 micron accuracy, reduces errors from thermal and lighting variations common in most labs and can be used for strain measurement with Digital Image Correlation (DIC).
---
Original Press Release:

Revolution in Strain Measurement



Instron, a leading provider of testing equipment designed to evaluate mechanical properties of materials and components, announces the newest advanced video extensometer, the AVE 2, that conforms to the most rigorous testing standards, such as ISO 527, ASTM D3039, and ASTM D638.



This second generation advanced video extensometer utilizes patented measurement technology in the fastest, most accurate non-contacting strain measurement device commercially available.



The fully-integrated device easily adapts to the normal fluctuations of environmental conditions in your lab and is easily adapted to any testing machine on the market that uses a ±10v analog input (performance depends on the system). Designed to dramatically reduce errors from thermal and lighting variations that are common in most labs, the AVE 2 is the only device on the market to utilize the real-time 490 Hz data rate while also achieving a 1 micron accuracy.



Its versatility allows for testing under multiple environmental conditions and can be used for advanced strain measurement with Digital Image Correlation (DIC). The AVE 2 measures both modulus and strain to failure of almost any material including plastics, metals, composites, textiles, films, bio-materials, and more.



About Instron

Instron is a leading global manufacturer of testing equipment for the material and structural testing markets used to evaluate materials ranging from native tissue to advanced high-strength alloys. Instron systems perform a variety of tests such as compression, cyclic, fatigue, impact, melt flow, multi-axis, rheology, tensile, and torsion. Providing single-source convenience through a comprehensive range of solutions and localized service & support, Instron's broad range of service capabilities include assistance with performance verification & calibration, standards compliance, testing system relocation, staff training, and preventative maintenance.



The Instron Centers of Excellence around the world ensure that behind every Instron system is an unprecedented commitment and dedication to quality and customer satisfaction. Instron remains involved with various ASTM and ISO committees, gaining first-hand knowledge of recent and upcoming changes to standards that affect our customers.



For more information, contact Instron, 825 University Ave, Norwood, MA 02062, USA. Toll-free: 1-800-564-8378; Fax: 1-781-575-5725; Email: info_news@instron.com