Video Encoders feature embedded intelligent video analysis.
Press Release Summary: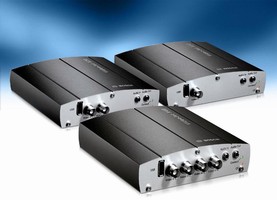 Available in single-, dual-, and quad-channel versions, VideoJet X SN series deliver MPEG-4 Video over IP at full frame rate of 25 images (PAL) or 30 images (NTSC) per second at up to 4 CIF resolution on every video channel. Recording options include memory card, external USB drive, direct to ISCSI, or network video recorder. Using video content analysis software IVA v3.5, encoders can autonomously detect suspicious behavior including loitering, object removal, and line crossing.
---
Original Press Release:

Bosch Introduces New VideoJet X SN Encoders with Embedded Intelligent Video Analysis Series Available in Single-, Dual- and Quad-Channel Versions



o Embedded Intelligent Video Analysis (IVA) pushes intelligence to the edge of a network to save system resource
o Comprehensive recording options including memory card, external USB drive, Direct to ISCSI or Network Video Recorder

Bosch Security Systems is introducing a new series of high-performance IP video VideoJet X SN encoders to meet the increasing market demand for 'intelligence at the edge' in which video analysis is pushed to the edge of a network to save system resources.

Bosch's video content analysis software, IVA 3.5, is embedded into the encoders, enabling them to autonomously detect suspicious behavior including loitering, idle objects (left at scene), object removal and line crossing. The features, available as a licensable option, build on the features of earlier versions of the software with further enhanced detection possibilities. These include new color filtering capabilities that allow object color or even a combination of colors to be set as a detection criterion. The filter set has also been extended with new powerful features such as line-crossing alerts and filtering on object trajectories. They can also combine this capability with size and speed filters to detect speeding and to filter out false-positive alarms from, for example, small animals.

When combined with analog cameras and DVR systems (Digital Video Recorder) the new encoders provide cutting-edge 'video analytics in a box' -- a simple way to add intelligence to an existing analog camera-based system.

The encoders are available in single , dual- and quad-channel versions. They deliver MPEG-4 Video over IP at a full frame rate of 25 images (PAL: Phase Alternating Line) or 30 images (NTSC: National Television Systems Committee) per second at up to 4CIF (Common Intermediate Format) resolution on every video channel.

The units also offer several recording options ranging from local recording on Compact Flash or external hard-disk drive via USB, to recording on network-attached RAID storage units via iSCSI (Internet Small Computer System Interface) or a central NVR (Network Video Recorder). The iSCSI RAID option offers significant benefits including complete flexibility in location of the iSCSI units on the network. In addition, it offers easy network scalability, a simpler and hence more reliable recording chain than with a standard NVR solution.

The VideoJet X SN series is compatible with Bosch's Video Recording Management (VRM) software. This provides complete management of iSCSI RAID storage units including automatic re-routing of video to alternative iSCSI units in the event of failure. The VRM software also provides forensic search functionality through metadata (text strings comprising key words describing specific scenarios) which is sent together with the video footage to the recording medium. Forensic searching through metadata text is much faster than searching through hours of raw video and is one of the key advantages of pushing intelligence to the edge.

The state-of-the-art VideoJet X SN encoders replace the VideoJet 10 series. The new models have approximately the same profile as the older series and therefore fit into the same racking system, allowing for easy upgrade or expansion.

The Bosch Group is a leading global supplier of technology and services. In the areas of automotive and industrial technology, consumer goods, and building technology, some 271,000 associates generated sales of 46.3 billion euros in fiscal 2007. The Bosch Group comprises Robert Bosch GmbH and its more than 300 subsidiaries and regional companies in roughly 50 countries. This worldwide development, manufacturing, and sales network is the foundation for further growth. Each year, Bosch spends more than 3 billion euros for research and development, and applies for over 3,000 patents worldwide. The company was set up in Stuttgart in 1886 by Robert Bosch (1861-1942) as "Workshop for Precision Mechanics and Electrical Engineering."

The special ownership structure of Robert Bosch GmbH guarantees the entrepreneurial freedom of the Bosch Group, making it possible for the company to plan over the long term and to undertake significant up-front investments in the safeguarding of its future. Ninety-two percent of the share capital of Robert Bosch GmbH is held by Robert Bosch Stiftung GmbH, a charitable foundation. The majority of voting rights are held by Robert Bosch Industrietreuhand KG, an industrial trust. The entrepreneurial ownership functions are carried out by the trust. The remaining shares are held by the Bosch family and by Robert Bosch GmbH.

Additional information can be accessed at bosch.com.

More from Mounting & Attaching Products