Video Encoder delivers D1 H.264/MJPEG video transmissions.
Press Release Summary: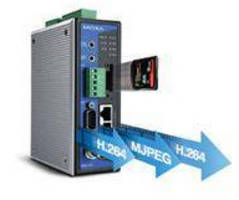 VPort 461 single-channel industrial video encoder provides up to 3 full D1 video streams in H.264 and MJPEG format simultaneously, with latency of less than 200 msec. It enables remote users to access video on web browser. Featuring temperature range of -40 to +75°C and IP30-rated metal housing, device offers two 10/100 Mbps Ethernet ports for cascading multiple units and SD card socket with up to 32 GB of storage. Product also allows PTZ control via RS-232/422/485.
---
Original Press Release:

Use Cutting Edge H.264 IP Video Technology to Upgrade Your Mission Critical CCTV System



Taipei, Taiwan - Moxa is proud to release the VPort 461, a single channel industrial video encoder that delivers multiple full D1 H.264 and MJPEG video stream transmissions for high performance IP video systems. Moxa's VPort 461 provides the best video quality on the market while using less bandwidth than other video compression standards.

To advance and extend existing CCTV systems to IP video for a system that is more flexible and scalable, simply add Moxa's VPort 461. Using the VPort 461, there is no need replace any of the original equipment or invest in new equipment.

H.264 Video Performance

The VPort 461 provides up to three full D1 video streams in H.264 and MJPEG format simultaneously and with a low latency of less than 200 ms. The H.264 standard provides the best video quality while using significantly less storage and bandwidth compared with other video compression standards. Thanks to the H.264's encoding technology, the VPort 461 provides fast, high-quality video transmissions; remote users can easily access real-time videos and play back analyses or recorded videos through their web browsers-anytime, anywhere.

Industrial Mission-critical Ruggedness

The VPort 461 H.264 video encoder is specifically designed for mission-critical industrial applications. The VPort 461 comes with a spectrum of rugged features such as a wide temperature range of -40 to 75°C, IP30-rated metal housing, and many industry standard certifications.

Network Communications

The VPort 461 is fully compatible with Moxa's SoftNVR-IA and VPort Gadget software tool, and not only enhances video performance and network reliability for general IP surveillance, but also for Modbus and OPC protocol communications. As a result, the VPort 461 is easily integrated into SCADA systems and is a perfect choice for industrial IP surveillance systems.

Two Ethernet Ports for Cascading or Port Redundancy

The VPort 461 has two built-in 10/100 Mbps Ethernet ports for cascading multiple VPort 461 units. The cascade feature saves money since you will use fewer switch ports, less cabling, and exert less effort when constructing the system. Alternatively, you can use the two Ethernet ports for network redundancy by creating a backup path, which will automatically forward data in the event the primary path breaks.

Local Video Storage for Event Recording

To ensure zero data loss, the VPort 461 has an SD card socket (SDHC, V2.0) that currently supports a maximum storage capacity of 32 GB. If the network goes down, untransmitted video streams are stored locally on the SD card.

Easy Control of PTZ Cameras

The VPort 461 uses Moxa's Real COM technology to implement transparent communication for RS-232/422/485 PTZ control. Moxa's transparent PTZ control function eliminates the need for a built-in PTZ control driver to allow existing legacy PTZ control panels or keyboards to control the PTZ cameras.

Overall Feature


3 simultaneous video streams (2 H.264, 1 MJPEG)


75 FPS in full D1 resolution for all 3 video streams


Video latency is under 200 ms


2 Ethernet ports for cascade or Ethernet port redundancy


SD card slot for local storage


-40 to 75°C operating temperature


VPort SDK PLUS supported


IP30-rated metal housing


SoftNVR-IA network video software supported


Designed for mission-critical industrial environments


Meets NEMA TS2, Section 2 requirements


UL508 (Pending) and Class I, Div. 2 (Pending) certified for hazardous locations

About MOXA

Moxa manufactures device networking products for industrial automation. Information about all Moxa products, which include industrial embedded computers, industrial Ethernet switches, serial device servers, multiport serial cards, embedded device servers, and remote I/O servers, is available on Moxa's corporate website at www.moxa.com. You may also contact Moxa directly by email at info@moxa.com, or by phoning +886-2-8919-1230.

More from Communication Systems & Equipment