Video Decoder targets HDTV set-top boxes.
Press Release Summary: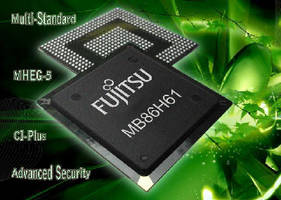 Compliant with DVB and China AVS standards, Model MB86H61 decodes MPEG-2, H.264/AVC, AVS, and VC-1 compressed video up to HD resolution. System-on-Chip, based on ARM1176JZF-S(TM) CPU with more than 475 DMIPS, incorporates all processing functions for digital video, digital audio, and on-screen graphics. In addition to connectivity options for STBs, PVRs, and in-car TV receivers, unit features integrated PHYs for SATA and 2 USB ports and well as support for DDR2 and NAND flash technologies.
---
Original Press Release:

Fujitsu Launches Next-Generation Multi-Standard Video Decoder Solution for HDTV Set-Top Boxes



Langen, Germany, - Fujitsu Microelectronics Europe (FME) today announced the launch of its next-generation high-definition (HD) multi-standard video decoder solution. The MB86H61 complies with the Digital Video Broadcasting (DVB) and China Audio and Video Coding (AVS) Standards. The decoder chip is capable of decoding MPEG-2, H.264/AVC, AVS and VC-1 compressed video up to HD resolution. It combines a fast ARM1176JZF-S(TM) CPU with more than 475DMIPS with all the features required by next-generation HDTV receivers including advanced security for supporting CI-Plus and the latest embedded Conditional Access (CA) systems.

This cost-effective, low power and highly integrated System-on-Chip (SoC) incorporates all the necessary processing functions for digital video, digital audio, powerful on-screen graphics and a variety of connectivity options for set-top boxes (STB), personal video recorders (PVR) and in-car TV receivers. With the included stand-by controller, it adheres to The European Code of Conduct on Energy Efficiency and enables customers to realise STBs with extremely low power consumption. The integrated PHYs for SATA and two USB ports allow for cost-effective product designs. Additional system benefits include support for low-cost, high-speed DDR2 and NAND flash technologies.

A significant part of this new HDTV video decoder solution is the comprehensive STB application software including drivers, middleware and a customisable user interface. The software package includes ports for various third party software IPs for digital TV functions such as MHEG-5, DVB Teletext/Subtitles and CI-Plus. With its application teams located in Europe, China and Japan, Fujitsu Microelectronics is capable of providing excellent local support to its customers helping them to design their next-generation digital TV products.

The DVB digital broadcasting standard is used in Europe, Russia, the Middle East, and by some broadcast systems in China that broadcast in standard definition (SD) and high-definition using the MPEG-2 and H.264 video compression formats.

The AVS specification provides one of the most comprehensive standardisation solutions for the Chinese digital video and audio industry because it addresses system level content transport, video/audio coding formats and media copyright management. It also provides video coding efficiency that is two-to-three times more efficient than MPEG-2 (and equivalent to H.264).

About Fujitsu Microelectronics Europe

Fujitsu Microelectronics Europe (FME) is a major supplier of semiconductor products. The company provides advanced systems solutions to the automotive, digital TV, mobile telephony, communications, networking and industrial markets. Engineers from design centres dedicated to microcontrollers, graphics controllers, mixed-signal, wireless, multimedia ICs, ASIC products and software development, work closely with FME's marketing and sales teams throughout EMEA to help satisfy customers' systems development requirements. This solutions approach is supported by a broad range of advanced semiconductor devices, IP, building blocks and software.

For more information, please see: http://emea.fujitsu.com/microelectronics