Video Converter Boxes include Ethernet and USB connectivity.
Press Release Summary: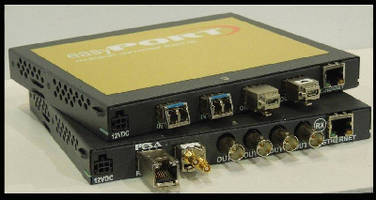 Available in 22 configurations, easyPORT Throw Down Converter Boxes are based on 4-port utility switch, which incorporates standard SFP-type pluggable module card cages that can be populated to support any combination of I/O signals, including HDMI/DVI, 3G-SDI, ASI, NTSC/PAL, and IP-to-ASI conversion. All video formats are transcoded or converted internally, and signals can be distributed over several possible transmission paths, including coax, fiber, and CATx for IP.
---
Original Press Release:

New PESA easyPORT 'Throw Down' Converter Boxes Deliver Broadcast Quality Conversion at NAB 2012



Huntsville, Alabama - PESA, a leading U.S.-based custom design and build manufacturing company for professional audio and video signal distribution, introduced its new series of easyPORT "throw down" multi-format converter boxes today at the 2012 NAB Show (Booth SL9615), which runs April 16-19 in Las Vegas, Nev. At the heart of the easyPORT concept is PESA's compact four-port utility switch, which incorporates standard SFP-type pluggable module card cages. The easyPORT card cages can be populated to fit practically any combination of input and output signals, including HDMI/DVI, 3G-SDI, ASI, NTSC/PAL, and IP-to-ASI conversion.

easyPORT is currently available in 22 different configurations to handle a wide range of video conversion and distribution needs, but "blank" boxes can be customized for specific I/O applications. For example, HDMI can be converted to 3G-SDI, NTSC/PAL can be encoded to SDI, ASI can be converted to an IP transport stream, and coaxial cable runs can be converted to fiber optic transports. All video formats are transcoded or converted internally, and signals can be distributed over several possible transmission paths, including coax, fiber, and CATx for IP.

Internal to each easyPORT module is a switch fabric that allow users to select which input goes to which output. The module can also be set as a distribution module, allowing any single input to be transmitted to up to four outputs. With a 3G-SDI backbone, signal quality up to 1080p60 can be supported.

With built-in Ethernet and USB connectivity, easyPORT modules can be controlled over a network or locally. Each module includes PESA's user-friendly CATTRAX software, which provides a simple interface for diagnostics, setup, and switching. Both USB and network connections can be displayed simultaneously, and multiple easyPORTs on the same network can be controlled and managed from a single software session. Changes for networked modules can be done anywhere on the network, but if a local check is required, the module can be simultaneously connected to a PC via USB.

The compact easyPORT can be mounted under a table, on the wall, or in an optional 1 RU power distribution frame. Up to four modules can be installed in a frame for shared power, reducing the need for multiple AC power plugs.

About PESA

As a leading provider of audio/video connectivity, PESA offers a wide selection of routing switchers, matrix switchers, extenders, converters, media extenders, and signal processing gear to support government, military, industrial, commercial, broadcast and mobile truck applications. PESA offers one of the widest ranges of AV products - from large scale fiber optic routing to single-point CAT-5 DVI extenders - each with the integrity and innovative high performance technology expected from PESA. Our products are available around the world from a leading team of channel partners offering local support and installation; and all of our products are supported by 24/7 technical support. To learn more about our technologies and services visit www.pesa.com. PESA is located in Huntsville, Alabama with regional offices throughout the United States.

All products mentioned herein are trademarked property of their respective owners.

Company Contact

Dan Holland

VP, Product Marketing

256-726-9200

dholland@pesa.com

More from Fasteners & Hardware