Video Control Centers are offered with full-featured software.
Press Release Summary: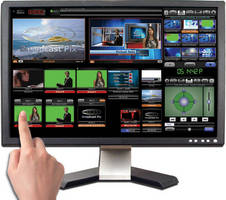 Granite(TM) and Mica(TM) are available with Video Control Center(TM) v3.0, which offers touchscreen production control, voice-automation control of switching and graphics, customizable virtual sets, and automated, dual-channel graphics. Further promoting production control, software supports Fluent Rapid CG(TM) 2 solution that integrates databases, RSS feeds, and custom action buttons into templates to streamline creation of data-intensive CG graphics.
---
Original Press Release:

Broadcast Pix Announces Video Control Center 3.0



Upgrades Include Touch-Screen Control, Voice-Automated Control, Virtual Sets and Automated Graphics

Billerica, Massachusetts - Broadcast Pix(TM) today introduced its Video Control Center(TM) 3.0 software for its Granite(TM) and Mica(TM) Video Control Centers. The new 3.0 software features the first optimized production control on a touch-screen, first voice-automation control of switching and graphics, powerful virtual sets that anyone can customize, and automated, dual-channel graphics that include Daktronics scoreboard integration. The company will ship 3.0 in March, and will demonstrate all of its features at the 2012 NAB Show (Booth SL6424), which runs April 16-19 at the Las Vegas Convention Center in Las Vegas, Nevada.

"Video Control Center 3.0 provides more production control than ever to help our customers create great live video," said Ken Swanton, CEO of Broadcast Pix. "Not every TD prefers a traditional control panel - for many, our new comprehensive touch-screen controls are a more intuitive way to switch. We've also added support for VOX, our truly revolutionary product for voice-automated video production. Our virtual sets enable anyone to create their own look. And our new graphics automation is great for elections and sports, and it includes Daktronics integration."

While Broadcast Pix is known for its innovative panels that control both video and file-based content, the new touch-screen controls enable operators to control all of these elements on surprisingly affordable touch-screens. New touch-screen friendly joystick and knobs control robotic cameras and picture-in-picture (PiP) box sizing, while new layering controls simplify placing content into key layers and moving them front to back. There are also new switcher transition controls and enhanced controls for selecting the built-in clip store, animation stores, and Harris or Chyron graphics system.

The new virtual set software enables up to eight cameras to have virtual backgrounds plus three key layers on top for PiP, titles, and animated logos. Up to 3 PiP boxes on an animated background can each contain a virtual set and any can be zoomed out to full screen. A simple eyedropper tool is used for chromakey setup. Broadcast Pix provides several backgrounds, but any photo can be used. Plus, the built-in image editor can crop and blur an image to simulate depth of field.

Video Control Center 3.0 also supports VOX(TM), the new voice-activated video production option that eliminates the need for an operator for some live productions. VOX adds advanced video-follow-audio capabilities by working with Broadcast Pix's built-in Fluent(TM) Macros to select camera presets, roll clips and animations, add or remove graphics, and execute PiP compositions. VOX software enables complete control over timing, and a host override panel is included. VOX has been used to add video to radio station broadcasts, and is ideal for broadcasting meetings of all kinds on television, the internet or projection.

Also new for Video Control Center 3.0 is support for Fluent Rapid CG(TM) 2, the second generation of Broadcast Pix's optional software that automatically integrates databases, RSS feeds, and custom action buttons into templates to streamline the creation of data-intensive CG graphics. A free upgrade for current Rapid CG customers, Fluent Rapid CG 2 delivers faster updates including clocks by-the-second, offers dual-channel capabilities to update two different on-air graphics at once, and supports EZNews news titles. Also announced today is support for Daktronics scoreboards, allowing all scoreboard elements to automatically update multiple Rapid CG templates at once. Supported scoreboards include baseball, basketball, football, hockey, lacrosse, soccer, and volleyball.

Other new Video Control Center 3.0 standard features include an integrated timer, which creates a countdown (or count up) of a show, so it is easy to keep track of how much time is left in a production; enhanced Sony camera control to support 12 cameras and 16 presets each; faster clip selection on AJA KiPro recorders; fade-to-black controls; multiple digital clocks; faster redraw time for customizing the Fluent-View; ViewCast streaming appliance control is now included; and some bug fixes are included in 3.0.

Broadcast Pix also announced a partnership with CyberTouch, a Newbury Park, Calif.-based company that designs and manufactures industrial touch-screen monitors, which provides premium touch-screens to Broadcast Pix customers in North America.

Video Control Center 3.0 is a free upgrade to all Granite and Mica customers, and a Beta version is available for download at www.broadcastpix.com. VOX is available now, with Daktronics support available in April.

About Broadcast Pix Broadcast Pix is the leader in live video production systems. Its Video Control Centers(TM) empower operators with patented controls that combine cameras, clips and graphics to create dynamic live video. Inside is an integrated multi-format switcher, clip store, graphics system with a Harris or Chyron CG, and device controls. It provides a low cost of ownership at a fraction of the cost of a conventional control room to buy, staff and operate. Systems range from compact units controlled by a touch-screen or voice-automation to sophisticated 2 M/E control panels. Customers include leading broadcast, webcast, projection, corporate, education, religious, government, entertainment and mobile studios in more than 100 countries. Learn more at www.broadcastpix.com.

Broadcast Pix, Command Center Control, Fluent, Granite, Mica and VOX are trademarks of Broadcast Pix, Inc. Patented.

Related