Video Clock enhances jitter performance of Virtex-5 LXT FPGAs.
Press Release Summary: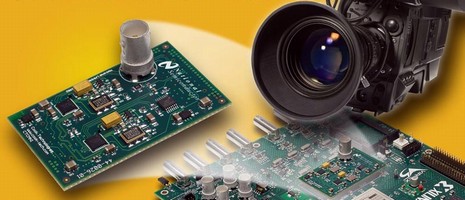 Available as plug-in module for Xilinx ML571 serial digital video development board, ML571-1982CLK video clock reference design module enables SMPTE-compliant jitter performance for broadcast video applications. It delivers low clock output jitter of 40 psed p-p at 148.5 MHz to drive Virtex-5 LXT FPGA's integrated SerDes without need for additional clock cleaning circuitry. Unit features LMH1982 multi-rate video clock generator and LMH1981 sync separator devices.
---
Original Press Release:

National Semiconductor's New Video Timing Reference Design Enhances Jitter Performance of Xilinx Virtex-5 LXT Platform



Reference Design Provides Ultra-Clean Clocks to Xilinx Virtex-5 LXT FPGAs, Enabling SMPTE-Compliant Jitter Performance for Broadcast Video Applications

SANTA CLARA, Calif. - September 10, 2008 - National Semiconductor Corp. (NYSE:NSM) today introduced a new video clock reference design, now available as a module for the Xilinx ML571 serial digital video development board. National's module improves the jitter performance of the ML571 board's SERDES-optimized Virtex®-5 LXT field-programmable gate arrays (FPGAs) and enables popular FPGA-based video solutions to easily meet the stringent Society of Motion Picture and Television Engineers (SMPTE) 424M jitter specifications. The reference design module simplifies the development of video cameras, digital recorders and a wide range of video editing and post-production equipment.

National's ML571-1982CLK reference design clock module plugs into the Xilinx ML571 development board to create a complete video reference design for triple-rate (3G/HD/SD) SDI applications. The ML571-1982CLK delivers the industry's lowest clock output jitter of 40 ps peak-to-peak (at 148.5 MHz) to drive the Virtex-5 LXT FPGA's integrated SerDes without the need for additional clock cleaning circuitry.

The reference design module features National's highly integrated LMH1982 multi-rate video clock generator and LMH1981 sync separator devices. The LMH1982 produces a top of frame (TOF) timing pulse output and can generate two simultaneous standard-definition (SD) and high-definition (HD) output clocks genlocked to the recovered H and V syncs from either a Xilinx Virtex-5 LXT FPGA, or from the outputs of a LMH1981 sync separator.

The LMH1982 supports NTSC/525i, PAL/625i, 525p, 625p, 720p, 1080i and 1080p video timing. This 5 mm by 5 mm device requires only one external 27 MHz voltage-controlled crystal oscillator (VCXO), which significantly reduces board space and design complexity. In the event of a loss of reference, the LMH1982 can be configured to default to either free run or holdover operation. In addition, the LMH1982 features a programmable charge pump current-control register for dynamic control of phase-lock loop (PLL) bandwidth. This allows a wide-loop bandwidth to be programmed for faster PLL lock time or a narrow-loop bandwidth for maximum input attenuation.

Pricing and Availability

Available now, the ML571-1982CLK reference design clock module is priced at $299 each. Provided with the purchase of each clock module is comprehensive design documentation and FPGA IP in synthesizable Verilog or VHDL. The IP includes source and executable binaries that provide system designers maximum flexibility to customize their design and reduce time-to-market. For more information, or to order the ML571-1982CLK, visit www.national.com/video_clocking.

The Xilinx ML571 serial digital video development board is available from Cook Technologies. For more information, visit www.cook-tech.com/ctxil406.html.

National will be demonstrating the performance of the ML571-1982CLK and ML571 combination at the International Broadcasting Convention (IBC) in Amsterdam from September 12-16 at Hall 11, Booth F79.

Solutions Supporting Video Systems

National's high-performance analog and mixed-signal technology can help video engineers differentiate their products. National provides the key functions every system engineer requires, including operational amplifiers, power management, data conversion, interface, clocking, serial digital video products, audio subsystems, display integrated circuits (ICs) and networking products. For more information on National's SDI broadcast video products, visit www.national.com/sdi.

About National Semiconductor

National Semiconductor creates energy-efficient analog and mixed-signal semiconductors. Its PowerWise® products enable systems that consume less power, extend battery life, and generate less heat. Headquartered in Santa Clara, Calif., National reported sales of $1.89 billion for fiscal 2008 which ended May 25, 2008. Additional company and product information is available at www.national.com.

Company Name: National Semiconductor
Address 1: 3689 Kifer Rd
Address 2: MS G1-124
City: Santa Clara
State: CA
Zip: 95131
Country: USA
Phone: 408-721-6929
URL: www.national.com

More from Computer Hardware & Peripherals