Video Card Module adds wireless display to notebooks/netbooks.
Press Release Summary: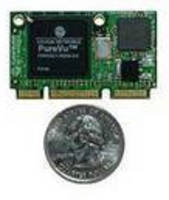 Display MiniCard module offers encoding up to 1,920 x 1,200p60 as well as HDCP 2.0 encryption and authentication for viewing local/online content. Measuring 44.40 x 26.80 mm, unit consists of DisplayPort receiver and CNW5XXX coprocessor and plugs into motherboard Display MiniCard slot, taking content from GPU through internal DisplayPort interface and sending stream to PCs WiFi module for transmission to remote wireless display. Module's DMC control software works with standard WiFi drivers.
---
Original Press Release:

New Ultra Compact Display MiniCard (DMC) from Cavium Networks Enables Low Power, High Performance, and Low Latency Wireless Display Capability for Notebook PCs (NBPC) and Netbooks



Based on Cavium's Recently Announced PureVu(TM) CNW5XXX Video Processor Family, the New DMC Card Uses the Existing NBPC WiFi Module to Provide 1080p60 H.264 Quality and HDCP 2.0 Content Protection

MOUNTAIN VIEW, Calif. - Cavium Networks (NASDAQ: CAVM), a leading provider of semiconductor products that enable intelligent processing for networking, communications, and connected home applications, today introduced the world's first fully standards-based Display MiniCard module intended for integration into next generation notebook PCs and netbooks to enable high performance, low latency wireless display capability for consumer and enterprise applications. The DMC module employs Cavium's netHD(TM) technology using H.264 compression and WiFi 802.11n networking to transmit high quality video and graphics for viewing local content, such as Windows Media Video files stored on the hard drive or Blu-ray movies, as well as online content streamed from the internet (e.g. Hulu or YouTube video clips) on any display throughout the home. In addition to video content, Cavium's DMC module provides pristine quality text and graphics encoding, thanks to the advanced pre-processing hardware integrated into the on-board PureVu CNW5XXX.

Unlike software based solutions that suffer from low encoding performance, high latency, and high power consumption, the new DMC module from Cavium offers high resolution encoding up to 1920x1200p60, HDCP 2.0 encryption and authentication for Hollywood quality content protection, at a latency that meets the most stringent requirements for gaming applications. In addition, by completely offloading the main CPU, users can access all the resources of the notebook PC as they normally would, while the HD content is being streamed to a remote display. The near-zero impact on CPU utilization also minimizes the impact on battery life compared to software-based solutions that tend to run the CPU at a fairly high rate to keep up with the compute-intensive compression and encryption tasks.

"Cutting the HD cord in consumer electronics and exploring a world with wireless displays and fewer cables is perhaps one of the most prevalent trends in the CE space today," said Randy Lawson, senior analyst at iSuppli. "Rapid adoption of wireless display technology will depend on how successful CE manufacturers are in bringing all the benefits of this technology without adversely impacting the user experience. Cavium's new netHD-based Display MiniCard module is another good example of innovative products being brought to the CE market to provide consumers with a wider option of video source devices and content."

At only 44.40 x 26.80 mm, the ultra compact DMC module plugs into the Display MiniCard slot on the motherboard, taking the raw display content from the GPU through the internal DisplayPort interface and sending the H.264 compressed and HDCP 2.0 encrypted stream to the notebook PC's integrated WiFi module on the PCI-express bus for transmission to a remote wireless display. Consisting only of two key components, a DisplayPort receiver and Cavium's CNW5XXX coprocessor, the DMC module operates at a very low power consumption range, in order to minimize the impact on battery life. The DMC control software is packaged in such a way to allow it to work with standard WiFi drivers deployed in common notebook PC's today. The complete hardware-software kit is designed to enable rapid adoption into notebook PCs and netbooks with a user-friendly, 'one-button' WiFi connect mechanism.

"The new DMC module is the manifestation of Cavium's innovative netHD technology for notebook PCs and netbook platforms," said Lars Herlitz, GM of Cavium's Multimedia group. "Although software based solutions can provide basic wireless display functionality using the main CPU, the applications will be fairly limited due to the long latency and the high power consumption inherent in software based solutions. The DMC module offers pristine quality at full 1080p60 and sub-frame latency, suitable for all interactive applications including gaming, at very competitive BOM cost."

Availability and Pricing

The new DMC card can be viewed at Cavium's private suite at the 2010 Consumer Electronics Show in Las Vegas. For general availability and pricing info, as well as arranging for a demonstration at CES, contact Cavium sales at sales@caviumnetworks.com.

About Cavium Networks

Cavium Networks is a leading provider of highly integrated semiconductor products that enable intelligent processing in networking, communications, and connected home applications. Cavium Networks offers a broad portfolio of integrated, software-compatible processors ranging in performance from 10 Mbps to 40 Gbps that enable secure, intelligent functionality in enterprise, data-center, broadband/consumer and access and service provider equipment. Cavium Networks processors are supported by ecosystem partners that provide operating systems, tool support, reference designs and other services. Cavium Networks principal offices are in Mountain View, CA with design team locations in California, Massachusetts, India and Taiwan.

More from Machinery & Machining Tools