Video Borescope iRis DVRx with Extra Thin Articulating Probe: Robust Built and Affordability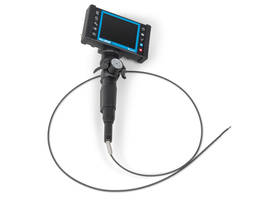 The iRis DVRx line of professional grade video borescopes just grew bigger: Fiberscope.net has launched sales of a new version of the model with an extra small diameter probe. The new model boasts an impressive 3mm (0.12″) insertion probe with 2-way articulation. The probes come in a range from 1.5 to 4 meters (or 4.9' to 13.1'). For added durability the probe is protected with tungsten braid on polyurethane jacket, which reduces the odds of mechanical damage, scratching or breakage. The integrated CMOS camera sensor is housed within a short rigid distal tip. The probe is water-, oil- and saline-resistant. It is graded to withstand the pressure of up to 14.1 psi (1 bar or 10.2 meters of depth in fresh water).
The iRis DVRx video borescopes feature a 12.7cm (5″) color TFT integrated display with 640x480 resolution. The videoscope possesses a number of useful functions, such as a 3.5x zoom, a measurement capacity to determine the problem spots, and a built-in full screen text overlay generator. The 3-stage adjustable LED lights are located at the tip of the probe within the distal end.
The captured photo and video files are recorded directly onto a removable SDHC memory card. The unit takes cards of up to 32GB. Since the cards are removable, there is virtually no limit to how much data can be stored. By the way of reference, a 32Gb card is sufficient for up to 32,000 images or 500 hours of video recordings. The video and photo files are stored in popular AVI and BMP formats respectively.
The iRis DVRx with the 3mm probe is a compact and lightweight piece of equipment. Its weight is a mere 1.35kg or 3 lbs. It comes in a convenient pelican type plastic carrying case and includes two sources of power, a rechargeable Li-ion battery (good for up to 6 hrs. on a single charge) and an AC power supply. A custom built explosion proof model of the videoscope is available upon request. It should also be noted that the iRis DVRx video borescope with the 3mm articulating probe is currently one of the most affordable professional grade inspection devices on the market considering its ample functions, high quality and robust built.
More information about the unit can be found at: http://www.fiberscope.net/video-scope-iris-dvr-x.html
Fiberscope.net by MEDIT
96 Sherbrook St.
Winnipeg MB R3C2B3
phone: 204-977-4634
url: http://www.fiberscope.net/
contact:
Terry Peristerakis
VP Sales
email: terry@meditinc.com
Related