Video Borescope features 1.8 mm working channel.
Press Release Summary: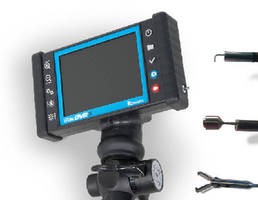 Featuring tungsten braided probe with 6.5 or 10 ft working length, IRis DVRx-WC can operate as visual inspection device and repair tool. Optional alligator jaw, magnet, and measurement device can reach area under inspection through 1.8 mm working channel. With SDHC memory cards, users can store image and video files. Additional features include 4-way articulation with 360° rotation, 5 in. color display, CMOS camera chip, adjustable 3-step LED illumination, and built-in digital zoom.
---
Original Press Release:

New IRis DVRx-WC Borescope Features a Working Channel



IRis borescope cameras (http://www.fiberscope.net/industrial-endoscope-articulated-videoscope.html) have been long known on the market for their outstanding qualities such as reliability, durability, precision and an extensive feature selection. However, the recently announced DVRx-WC model is a big leap forward even in comparison to the rest of the product line.



The IRis DVRx-WC borescope (http://www.fiberscope.net/video-borescope-iris-dvrx-wc.html) boasts another highly innovative and immensely useful feature. The tungsten braided probe is equipped with a working channel. Optional tools, which include an alligator jaw, a magnet (capable of lifting up to 0.9 kilos or 2 lbs.) and a measurement device can reach the area under inspection through the 1.8mm working channel. This significantly expands the scope of tasks a new borescope is capable of doing, turning the camera into a visual inspection device plus a repair tool. The tools are available for purchase with the unit as an optional retrieval set. Highly durable tungsten braided probes on a poly-urethane jacket come in two options, 2m (6.5') and 3m (10') with an 8mm (1/3 of an inch) diameter. Customized lengths may be available depending on customer's project and requirements. SDHC memory cards can be used to store image and video files. They are saved in .bmp and .avi formats respectively. A 32Gb card is able to store up to 32,000 still photos or close to 5 hours of video recordings.



Other noteworthy characteristics include full 4-way articulation with a 360 degree rotation, large 5'' integrated color display, high-resolution CMOS camera chip, adjustable 3-step LED illumination, built-in digital zoom and a text input feature. The key elements of the camera are its precision, unrivalled durability and versatility enabling the new IRis video borescope to accomplish a wide variety of tasks. All this, coupled with the lightweight waterproof ergonomic design and a reasonable price makes IRis DVRx-WC a perfect video borescope choice for most types of inspections.

More from Test & Measurement