Video-based Training Guide addresses back safety.
Press Release Summary: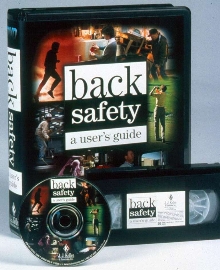 Back Safety: A User's Guide demonstrates proper lifting techniques and other safety practices at job and explains how off-the-job activities impact back health. Offered on VHS and DVD, program features 25 min informational portion and 5 min segment demonstrating simple stretches and exercises. Instructor's guide and 11 user handbooks also come with program. DVD supplemental material includes Message for Management, commentary, and interactive quiz.
---
Original Press Release:
Keller Introduces Back Safety Program

Neenah, WI - J. J. Keller & Associates, Inc. has just introduced Back Safety: A User's Guide, a new video-based training program designed to teach employees how to protect their backs on and off the job.

Using an approach called the whole life/health cycle, the video-based program teaches employees how to keep their backs healthier. It demonstrates proper lifting techniques and other key safety practices on the job, and explains how lifestyle choices and ordinary off-the-job activities can impact back health.

In addition to the 25-minute informational portion of the program, Back Safety: A User's Guide features a 5-minute segment that demonstrates simple stretches and exercises that can help improve back strength and flexibility.

Along with the video, the program includes an instructor's guide that provides background information, training tips and techniques, and log pages to track participation; 11 user's handbooks with removable "Action Card" pages for employees' quick reference; and an awareness poster regarding the whole life/health cycle and proper lifting techniques. Additional copies of these materials, to train more employees, are available separately.

The program can be used to train employees in many industries, including transportation, warehouse/material handling, construction, manufacturing/assembly, office, food processing/packing and more.

Keller's Back Safety: A User's Guide is available on DVD for $345 (142-DVD). The program is also available on VHS (142-K) for $279. The DVD format includes a special "Message for Management," informative commentary, an interactive quiz with correct/incorrect remediation, and a review of key back health issues and proper lifting procedures. The DVD version also includes menu and chapter selections that allow for navigation and random access of topics. These programs can be ordered by calling 1-800-327-6868. Callers should reference Action Code 02066 when ordering.

For more information on Keller solutions like this one, call the toll-free number listed above, visit the company's web site at www.jjkeller.com, or e-mail sales@jjkeller.com.

J. J. Keller & Associates, Inc., of Neenah, WI, is a leading specialized publisher and services provider. Founded in 1953, the company offers a wide spectrum of ready-made and custom safety and regulatory compliance products to customers throughout North America. Keller helps customers in industries such as construction, utilities, manufacturing, transportation and food processing comply with OSHA, EPA, DOT, DOL, FDA and USDA requirements. The company's diverse product line includes technical publications; computer software; video-based, online and CD-ROM training programs; specialized forms; and supplies.

Keller also provides safety consulting, on-site training and a variety of transportation services, including licensing, permitting, fuel tax reporting, driver log auditing and driver qualification file management.
More from Optics & Photonics