Video Analysis Software offers simplified camera calibration.
Press Release Summary: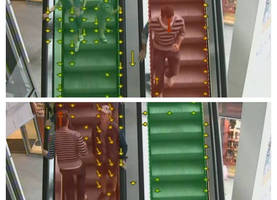 Enabling calibration of camera in 2 min, Intelligent Video Analysis (IVA) software v4.0 includes tool that reports on how accurately camera is calibrated. Tool also estimates distance/speed of moving objects and calculates perspective. Head detection filter detects human head and shoulder contours to classify people in scene. Program also features IVA v4.0 Flow motion algorithm to detect direction of movement by measuring absolute motion of pixels in scene.
---
Original Press Release:

Bosch Focuses on Intelligent Video Analysis Software Usability, Quicker Setup Time, and Greater Accuracy

Two-minute calibration revolutionizes setup time for installers


New vector-based motion algorithm improves performance in crowded scenes


Built-in head detection focuses on people, reducing false alarms

Bosch Security Systems is introducing a major new release of its Intelligent Video Analysis (IVA) software with easier scene calibration and even more powerful forensic search capabilities.

IVA 4.0 focuses strongly on ease of setup, and reducing false alarms. With the new interactive setup tool it takes an average installer about two minutes to calibrate a camera. The tool also includes 'accuracy feedback', reporting how accurately the camera is calibrated. In addition, a new head detection filter detects human head and shoulder contours to reliably classify people in a scene and further reduce false alarms. IVA 4.0 also comes bundled with a new vector-based direction-detection motion algorithm: IVA 4.0 Flow, providing in effect two powerful algorithms for intelligent video analysis.

With the IVA 4.0 new camera calibration tool, users simply draw measured straight lines and right angles on the scene, and the tool automatically calculates the perspective. The function enables accurate estimates of the distance and speed of moving objects, even allowing for perspective in the scene. Moreover, the tool provides direct feedback on the accuracy of the calibration, indicated by an on-screen calibration-quality traffic light which shows the calibration quality by color. Accurately calibrated cameras are more likely to be able to predict size and speed of any object, which is important for filtering out unwanted events and minimizing false alarms.

The new head detection filter greatly facilitates IVA's forensic search function by allowing an operator to limit the search to only show results of scenes containing human objects. This significantly reduces the number of 'false hits' from spurious signals such as reflections, making it feasible to quickly search for important events.

The IVA algorithm already includes a filter for detecting direction which relies on segmenting the moving objects in a scene over a static background. However, to tackle fully covered backgrounds, for example in a crowded or complex scene, Bosch has introduced a new motion vector algorithm, IVA 4.0 Flow, which detects direction of movement of an object by the absolute movement of pixels in the scene. IVA 4.0 Flow provides effective detection of counter-flow, especially where there are objects occupying a relatively large area in the scene, e.g. crowded scenes. Examples include people trying to move the wrong way in turnstiles or airport baggage claim areas, and vehicles travelling in the wrong direction.

IVA 4.0 and IVA 4.0 Flow are included in Bosch's latest firmware 4.0 release, and can be licensed for Bosch's IP fixed and AutoDome cameras and video encoders. In line with Bosch's policy of providing ongoing upgrade support for its customers, licensed users of earlier versions of the company's Intelligent Video Analysis software will automatically be upgraded free of charge to IVA 4.0/IVA 4.0 Flow on upgrading their firmware to the latest 4.0 version.

The new firmware 4.0 also features an advanced profile scheduler that can switch the encoders and IP cameras between several independent profiles - two in the case of the encoders and fixed IP cameras. For AutoDome IP cameras up to 10 scenes can be associated with independent IVA profiles. With this function it is possible to configure several instances of IVA 4.0 to cover, for example, day-time and night-time viewing or to run a preset scene tour in the case of AutoDome IP cameras, or even to run versions of IVA 4.0 and IVA 4.0 Flow in the same camera or encoder under different profiles.

Contact person for press inquiries:

Bosch Security Systems

Erika Goerge

P.O. Box 12 70

D-85504 Ottobrunn v
Germany

Phone: +49 89 6290-1647

Fax: +49 89 6290-281647

E-mail: [email protected]

www.boschsecurity.com

The Bosch Group is a leading global supplier of technology and services. In the areas
of automotive and industrial technology, consumer goods, and building technology,
some 280,000 associates generated sales of 45.1 billion euros in fiscal 2008. The Bosch
Group comprises Robert Bosch GmbH and its more than 300 subsidiaries and regional
companies in over 60 countries. If its sales and service partners are included, then Bosch is represented in roughly 150 countries. This worldwide development, manufacturing, and sales network is the foundation for further growth. Each year, Bosch spends more than 3.5 billion euros, or eight percent of its sales revenue, for research and development, and applies for over 3,000 patents worldwide. With all its products and services, Bosch enhances the quality of life by providing solutions which are both innovative and beneficial.

The company was set up in Stuttgart in 1886 by Robert Bosch (1861-1942) as "Workshop for Precision Mechanics and Electrical Engineering." The special ownership structure of Robert Bosch GmbH guarantees the entrepreneurial freedom of the Bosch Group, making it possible for the company to plan over the long term and to undertake significant up-front investments in the safeguarding of its future. Ninety-two percent of the share capital of Robert Bosch GmbH is held by Robert Bosch Stiftung GmbH, a charitable foundation. The majority of voting rights are held by Robert Bosch Industrietreuhand KG, an industrial trust. The entrepreneurial ownership functions are carried out by the trust. The remaining shares are held by the Bosch family and by Robert Bosch GmbH.

Additional information can be accessed at www.bosch.com.