VICTREX® PEEK(TM) Polymer Chosen for High Temperature Protective Tubing for Critical Components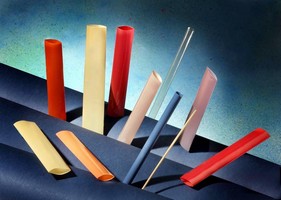 West Conshohocken, PA - (February 26, 2007) - Due to the demand for higher performance tubing and heatshrinks, Zeus Inc., a world leader of polymer extrusions, wanted to offer a high temperature alternative to traditional protective materials such as PTFE. It chose VICTREX® PEEK(TM) polymer because of its ability to withstand extreme temperatures, high pressures and caustic fluids. Its inherent purity and lubricity make it an ideal choice for PEEKshrink(TM), a new heat-shrinkable tubing, and PEEK Lay-Flat® tubing. Providing thermal, chemical, and electrical insulation, the tubing is used to protect critical wire and electrical components in oil exploration equipment, electronics, medical devices and telecom hardware.

According to Dr. Stephen Davis, Staff Scientist of the Advanced Materials Group at Zeus, "We chose VICTREX PEEK polymer because it is considered the highest performing thermoplastic material due to its ability to withstand the harshest environments. In down-hole applications, for example, the tubing is exposed to a variety of extremes including high temperatures, oil, gas, steam and chemicals. With VICTREX PEEK polymer, we get high tensile, mechanical and dielectric strength. In addition, it offers stability in hot water, steam, solvents and chemicals, and provides excellent resistance to stress cracking and bursting."

When shrunk onto components such as wire or round mandrels, PEEKshrink(TM) forms an impenetrable "second skin" that is impervious to contaminants, thus preserving the integrity and performance of what's inside. With a continuous operating temperature of 400°C (752°F, NEMA MW 1000) the heat-shrinkable tubing provides a "shrink to fit" layer of insulating protection against environments where extreme heat or cold, intense pressure, chemicals, water, or dielectric interference pose a threat to wires and electrical components.

PEEK Lay-Flat® tubing is thin-walled tubing that delivers high dielectric protection, strength, lubricity, chemical inertness and abrasion resistance for a broad range of applications including down-hole equipment. It eliminates the need for inconsistent polyamide spiral wound materials or labor intensive tapes and films that need to be wrapped. With a continuous operating temperature of 260°C (500°F), VICTREX PEEK polymer retains its excellent mechanical properties at elevated temperatures. Adds Dr. Davis, "It is an ideal solution for protection and build-up prevention that is required for the petroleum industry."

Victrex USA Inc., a division of Victrex plc., is the sole manufacturer and supplier of VICTREX PEEK polymer worldwide. For more information on the properties and performance advantages of VICTREX PEEK polymer, please call (800) VICTREX or visit the Victrex website at www.victrex.com.

If you would like more information about this story, or if you would like to speak with a Victrex spokesperson, please contact Kris Jommersbach at krisj@geminiinc.com.

More from Computer Hardware & Peripherals