Victrex Aptiv(TM) Film Enables Thinner Prepregs than Traditional Carbon Fiber Composite Materials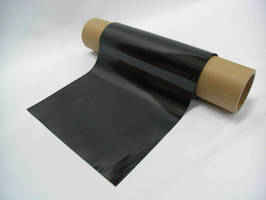 WEST CONSHOHOCKEN, PA, USA - (March 9, 2009) - By using Victrex APTIV(TM) film as the matrix polymer, Mitsuya, a Japanese developer of carbon fiber composite materials, has developed an innovative prepreg sheet that is thinner - 40µm or less - enabling lighter weight and higher performance than traditional carbon fiber composite materials.

Carbon fibers are manufactured into tows consisting of several thousand strips of carbon fiber. Mitsuya utilizes an innovative technology that opens the tows, and continuously spreads them widely, thinly and evenly, and then processes them into a sheet. Fibers that are spread out evenly make polymer impregnation easier. Thinner prepregs have excellent evenness/balance when used in layer processes, allowing the manufacture of molded products that can accommodate a wide range of thicknesses.

The new prepreg is a uni-directional (UD) sheet combining VICTREX® PEEK(TM) polymer-based APTIV film and strips of carbon fiber lined up in one direction. Not only does the prepreg form uni-directional layers, but also multiaxial layered prepregs molded through heat and pressure treatment and combined in multiple directions. Due to their high heat resistance, material strength, and lightweight characteristics, prepregs are used in athletic products and Formula One cars. They are gaining the attention of automobile and aircraft manufacturers seeking to improve fuel efficiency and operational costs through weight reduction. Multiaxial layered prepregs, for example, are ideal for aircraft structural parts that require material strength in order to withstand impact from multiple directions.

Victrex has worked successfully with a number of composite material manufacturers and end-users on technology development for composite materials using matrix polymers (polymers used for textile impregnation) made from VICTREX PEEK polymer but until now the sheet thickness was similar to traditional products, 120-100 µm. Using APTIV film it is now possible to manufacture sheets with a thickness of 40µm or less.

For more information about Victrex APTIV(TM) films made from VICTREX PEEK polymer, please call (800) VICTREX or visit www.aptivfilms.com.

Note: If you would like more information about this story, or if you would like to speak with a Victrex spokesperson, please contact Kris Jommersbach at krisj@geminiinc.com.

More from Cleaning Products & Equipment