Victor® Announces EDGE(TM) Regulator Series Expansion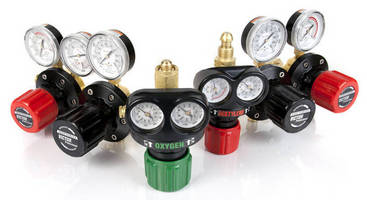 St. Louis, Mo. - Thermadyne® Industries' Victor® brand has announced that its popular and innovative EDGE(TM) Regulator technology will soon be available in an expanded lineup.

Beginning May 1, 2011 and continuing throughout the year, Victor VGS, CSR and AF 250 Regulators will transition to EDGE ESS4 Series High Capacity and EDGE ESS3 Series Medium Capacity Regulators for Air, Acetylene, Oxygen, Carbon Dioxide, LPG and Inert Gases.

The Edge offering is now even more complete with a full range of models that are comparable to the SR series line.

EDGE Technology will also be available for the Specialty Gas line with the ELC4 Liquid Regulator (for Oxygen, Carbon Dioxide and Inert Gases), ESL4 Line Regulator (Acetylene, Oxygen and Inert Gases), EST4 Station Regulator (Acetylene, Oxygen and Inert Gases), and ESS7 High Flow Regulator (Air, Acetylene, Oxygen, LPG and Inert Gases) Series.

All Victor EDGE Regulators are:

o Easy to use - The EDGE Series Regulators have easy to read gauges with enhanced graphics, color-coded knobs for quick gas identification, and offer more natural and safer hand/body positioning for delivery pressure.

o Durable and compact - The advanced design makes them some of the most compact industrial regulators available on the market. Construction materials have been carefully chosen for optimum durability, including a forged brass body, stainless steel bolts, and a regulator housing cap constructed of a zinc-aluminum alloy which has nearly twice the yield strength of brass.

o Designed for performance - Outperforming traditional design, Victor Professional EDGE Series Regulators offer a more consistent flow performance over a wide range of cylinder pressures.

o Unmatched for safety - The EDGE Series Regulators meet or exceed industry standards, passing the most stringent compliance testing. All EDGE Regulators feature SLAM(TM) (Shock Limitation and Absorption Mechanism) technology built into the adjusting knob, providing additional strength, safety and protection of the regulator internals. The EDGE Series has passed all CGA E-4 compliance testing, Heated Oxygen Impact Test, requirements of the UL 252 Standard for Compressed Gas Regulators and the stringent ASTM G-175 promoted ignition test.

More information about Victor and its products can be found at www.thermadyne.com

Victor®, a world leader in the gas cutting and welding industries, produces oxy-fuel welding and cutting apparatus, torch handles, cutting attachments, straight cutting torches, regulators, cutting tips, welding nozzles, and cutting and welding outfits and other accessories and components. These products cover the full range of needs from general industrial to heavy duty mill and foundry requirements. Victor's gas equipment line is the most complete selection offered from any manufacturer and the only one offering users the (patented) safety benefit of built-in flashback arrestors and reverse flow check valves.

Thermadyne Holdings Corporation is headquartered in St. Louis, Mo. Thermadyne is a leading global manufacturer and marketer of metal cutting and welding products and accessories under a variety of premium brand names including Victor®, Tweco®, Arcair®, Thermal Dynamics®, Thermal Arc®, Stoody®, TurboTorch®, Firepower® and CIGWELD®. For more information about Thermadyne, its products and services, visit the company's website at www.thermadyne.com.


More from Agricultural & Farming Products