Vibratory Tamper utilizes 4-cycle engine technology.
Press Release Summary: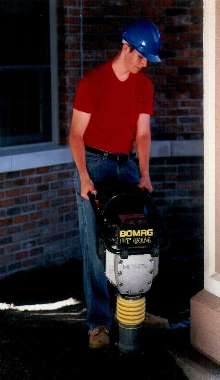 Powered by 3.3 hp Honda GX100 engine, Model BT60/4 offers max travel speed of 66 fpm and range of 540 to 708 impacts per min. It delivers up to 3,037 lbs of impact force to compaction depth of 21.6 in. Tamping foot is constructed of honeycomb polyethylene which absorbs shock. Anti-vibration handle minimizes amount of vibration transferred to operator. Standard operating width is 11 in. Unit is designed for compaction of cohesive, semi-cohesive, and granular soils.
---
Original Press Release:

BOMAG Introduces Four-Cycle Engine Vibratory Tamper with Lighter-Weight Design


KEWANEE, Ill. - BOMAG Light Equipment is introducing a new, lighter-weight tamper built with its proven four-cycle engine technology.

Powered by the 3.3-horsepower, four-cycle Honda GX100 engine, the new BT60/4 tamper weighs 137 pounds, nearly 10-percent lighter than other BOMAG four-cycle tamper models. With a maximum travel speed of 66 feet per minute and a range of 540 to 708 impacts per minute, the unit delivers up to 3,037 pounds of impact force to a compaction depth of 21.6 inches.

Combining a well-balanced design with a well-protected, integrated air intake and a low center of gravity, the BT60/4 requires little effort to guide. The tamping foot is constructed of high-strength honeycomb polyethylene that absorbs shock, ensures stability and provides smooth operation.

For operator safety and comfort, the BT60/4 tamper offers a patented "anti-vibration handle." The "anti-vibration handle" minimizes the amount of vibration transferred to the operator and increases the number of hours an operator can safely use the tamper.

Designed for compaction of cohesive, semi-cohesive and granular soils, typical applications for the BT60/4 include highway patching, compaction of backfill around foundations and footings, reinstatement in trenching applications, and utility and cable backfill jobs. Due to lower noise and emissions produced by the four-cycle engine, the new unit is ideally suited for residential areas and confined trench work.

The BT60/4 has a standard operating width of 11 inches. A 9-inch interchangeable shoe is also available as optional equipment.

BOMAG four-cycle engine tampers offer the operating convenience of a four-cycle engine while maintaining the high stroke and impact force of a two-cycle model. The units can be transported in a horizontal position without concern for oil contamination of the cylinder, muffler, carburetor or air filter.

For more information concerning the new BOMAG BT60/4 four-cycle engine vibratory tamper or the complete BOMAG Light Equipment product line, including vibratory tampers, single-direction and reversible plate compactors, trench compactors, single- and double-drum walk behind vibratory rollers, and single-drum and tandem ride-on vibratory rollers, contact Compaction America, Inc., 2000 Kentville Road, Kewanee, IL 61443, call 309-853-3571, fax 309-853-1319, e-mail info@compactionamerica.com or visit the BOMAG Web site at www.bomag-americas.com.

Related