Vibratory Separator allows quick screen changes.
Press Release Summary: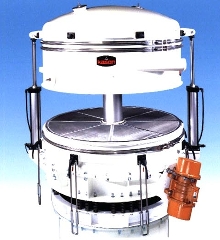 Pneumati-Sifter, with Air-Lift device to allow rapid disassembly, uses twin-screen decks for in-line pneumatic scalping or dedusting of up to 60,000 lbs/hr of bulk material. It also removes oversize particles from plastic resin, flour, starch, sugar, and food and chemical products gently. Applications include loading and unloading of trucks and railcars, and conveying of material between process or storage areas. Machine is available to 3-A, FDA, BISSC and other sanitary standards.
---
Original Press Release:
Ultra-High Capacity In-Line Pneumatic Screener Allows Rapid Cleaning, Screen Changes

MILLBURN, NJ-A new Pneumati-Sifter vibratory separator employs twin screening decks for in-line pneumatic scalping or dedusting of up to 60,000 lbs./hr (27,200 kg/hr) of bulk material, and an Air-Lift device that allows rapid disassembly, cleaning, inspection and screen changes.

The chambers above the top screen and below the bottom screen are connected by a central bypass chute, causing on-size material entering the central chamber to reach the bottom outlet via two pathways: upward through the top screen then downward through the chute; or downward through the bottom screen. Oversize material is ejected through a spout at the periphery of the lower screen.

The upper and lower screens are readily changed, or the entire unit disassembled for thorough wash down, by loosening all quick-disconnect clamps and the band clamps that connect housing sections, then activating the Air-Lift device to separate the sections as required.

A tangential inlet along the horizontal centerline of the central chamber prevents material from impacting screens at 90 deg angles. Gradual changes in flow stream direction are said to minimize breakage of oversize foreign material and subsequent material contamination, and reduce screen breakage significantly.

The unit is equipped with "ball tray" anti-blinding devices to dislodge near-size particles from apertures in the upstream side of upper and lower screens, and is intended to remove oversize particles from plastic resin, flour, starch, sugar, and numerous food and chemical products gently, at ultra-high rates. Applications include loading and unloading of trucks and railcars, and conveying of material between process or storage areas.

Offered in 48" (1219mm) and 60" (1525mm) diameters, the twin-screen machines are available to 3-A, FDA, BISSC and other sanitary standards.

The company manufactures numerous types and sizes of circular vibratory screeners and centrifugal separators for separating virtually any solid from any solid or slurry, as well as agglomerators, powder coaters and circular fluid bed dryers, coolers and moisturizers.

Request details from Kason Corporation, 67-71 East Willow St., Millburn, NJ 07041, Tel: 973-467-8140, Fax: 973-258-9533, E-mail: info@kason.com, Web: www.kason.com

Related