Vibratory Conveyors feature sanitary rotary finish.
Press Release Summary: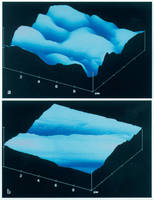 Iso-Flo®, Impulse®, and Horizon™ conveyors and processing systems feature, as standard, rotary polish on vibratory and horizontal motion conveyor beds. Finish provides smooth stainless steel surface that resists bacterial attachment and biofilm formation. Within product contact zones, this improves sanitation to maximize food safety. Rotary finish, providing constant Ra value of <10 µin., helps food processors improve equipment hygiene.
---
Original Press Release:

Key Technology Introduces Sanitary Rotary Finish on Vibratory Conveyors



Key Technology introduces a rotary polish as the new standard finish on its vibratory and horizontal motion conveyor beds. Replacing the 2B mill finish on popular Iso-Flo®, Impulse®, and Horizon™ conveyors and processing systems, Key's rotary finish provides a smoother stainless steel surface that resists bacterial attachment and biofilm formation. Compared to the industry-standard 2B finish, Key's rotary polish within the product contact zones improves sanitation to maximize food safety.



Available immediately on all U.S.-manufactured conveyors and to be introduced on all European-manufactured conveyors, both of which are shipped to customers worldwide, the new rotary finish on the conveyor bed helps food processors improve equipment hygiene.



Surface roughness is measured by an Ra value (roughness average) that refers to the peaks and valleys of the metal's surface in microinches or micrometers. Compared to a 2B finish on stainless steel that often varies from 10 to 40 µin (0.254 to 1.016 µm) Ra, Key's rotary finish provides a more constant Ra value of less than 10 µin (0.254 µm). Consistently smooth rotary polished surfaces better resist the attachment and accumulation of bacterial cells, which is desirable for all food products including fruits, vegetables, potato products, snacks, and nuts as well as meat and dairy.



In addition to the new standard rotary finish, Key is introducing its four new manufacturing specifications – Basic, Standard, Standard +, and Enhanced – for its vibratory and horizontal motion conveyors and processing systems. All four specifications will feature a rotary polish on 304 stainless steel product carrying surfaces. Key's Enhanced conveyors also feature ground and polished welds within the product contact zone and ground and polished surfaces within the "drip, drain, or draw zones" where, if contaminated with a pathogen, there is a risk the product area could become contaminated by a drip or drainage or the pathogen could be drawn into the product area.



"At Key, we are committed to helping food processors maximize food safety. The rotary finish that we are introducing as a standard on conveyor beds is a step above the industry-standard 2B finish in terms of sanitation," said Peter Wood, Process Systems Product Manager at Key Technology. "At the same time, we've streamlined our conveyor product offering with four different manufacturing specifications that each have standard features so it's easier for customers to understand what's available. Of course, if a customer wants a different finish or a unique combination of features, we'll customize the system to match their requirements."



Iso-Flo Vibratory Conveyors

Iso-Flo is a versatile family of natural frequency vibratory conveyors with frame-mounted mechanical drives that operate with high amplitude, low frequency movement. Key offers Iso-Flo conveyors for product distribution, product alignment, fines removal, scalping, dewatering, inspection, and other applications.



Impulse Vibratory Conveyors

Impulse vibratory conveyors, which feature frame-mounted electromagnetic drives, are designed for processing and packaging distribution lines that require precise metering and low maintenance drives. Perfect for product mixing as well as ingredient feeding and scale feeding, Impulse starts and stops quickly.



Horizon Horizontal Conveyors

Horizon is Key's horizontal motion conveyor, which features a unique maintenance-free mechanical drive. Achieving gentle, quiet, and sanitary horizontal motion conveying, Horizon is ideal for many fragile, seasoned, coated, and frozen food products. Its drive is powerful and efficient, capable of moving product at speeds up to 42 feet (13 meters) per minute on a single continuous conveyor up to 100 feet (30 meters) long.



For more information on Key's conveyors, visit www.key.net/products/smart-shaker.



About Key Technology, Inc.

Key Technology (NASDAQ: KTEC) is a global leader in the design and manufacture of process automation systems including digital sorters, conveyors, and processing equipment. Applying processing knowledge and application expertise, Key helps customers in the food processing and other industries improve quality, increase yield, and reduce cost. An ISO-9001 certified company, Key manufactures its products at its headquarters in Walla Walla, Washington, USA; and in Beusichem, the Netherlands; Hasselt, Belgium; and Redmond, Oregon, USA. Key offers customer demonstration and testing services at five locations including Walla Walla, Beusichem, and Hasselt as well as Sacramento, California, USA and Melbourne, Australia; and maintains a sales and service office in Santiago de Queretaro, Mexico.



Reader Inquiries:

Anita Funk

Key Technology, Inc.

150 Avery Street

Walla Walla, WA  99362  USA

Tel: +1 509 529 2161

Fax: +1 509 527 1331

afunk@key.net

www.key.net

More from Software