Vibratory Compactors provide 3,800 vibrations/min.
Press Release Summary: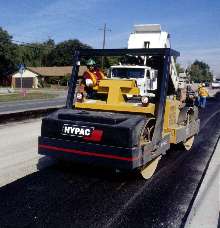 Model C778B features 78 in. drum width and produces 37,099 lb of centrifugal force, while Model C766C offers 66 in. drum width and provides 32,950 lb of force. Both double-drum compactors achieve working speed of 4.3 mph, while maintaining minimum of 10 impacts/ft. Asphalt mat temperature sensing system measures surface temperature of asphalt as compactor rolls across mat. Turbo-charged, 125 hp, Cummins diesel engine offers ample power for tough applications.
---
Original Press Release:
HYPAC Enhances Performance of C778B, C766C Double-Drum Vibratory Compactors

KEWANEE, Ill. - Through a substantial increase in vibration frequency, HYPAC has improved the overall performance of its C778B and C766C double-drum vibratory compactors.

Vibration frequency on both units has been increased to 3,800 vpm (vibrations per minute). As a result, the C778B now produces 37,099 pounds of centrifugal force - an improvement of more than 19 percent, while the C766C now generates up to 32,950 pounds of centrifugal force - an increase of more than 10 percent.

The increased vibration frequency allows both the C778B, with a 78-inch drum width, and the C766C, with a 66-inch drum width, to achieve a working speed of 4.3 mph while maintaining a minimum of 10 impacts per foot. The combination of faster working speeds with higher output means the C778B and C766C are able to cover more area in less time without sacrificing
compaction performance.

Both units offer an asphalt mat temperature sensing system (AMTSS) as standard equipment. The AMTSS measures the surface temperature of the asphalt as the compactor rolls across the mat. A platform-mounted display allows the operator to monitor mat temperature without stopping or getting off the machine. This feature is especially useful for Superpave projects where compaction must cease when mat temperature reaches the "tender zone."

The C778B and C766C feature a "human engineered" operator platform designed to increase efficiency by positioning controls for natural operator movement. Dual center-facing seats provide outstanding visibility and comfort in both travel directions while levers mounted on either side of the operator console permit convenient one-hand control of travel direction, speed and manual vibration on/off.

For maximum productivity, the C778B and C766C are equipped with a Multi-System Performance Indicator (MSPI). The MSPI allows the operator to input maximum working speed and automatic vibration start/stop as well as front and rear drum vibration frequency and amplitude.

A platform-mounted display informs the operator of working/travel speed, front and rear drum vibration frequency, impacts per foot, auto vibration speed setting and working speed limit. Values may be displayed in English or metric units. For servicing ease, the MSPI serves as an on-board electrical system diagnostic panel.

The C778B and C766C also feature pneumatic drum isolators that provide a cushion of air between the drum and the frame. This design minimizes the vibratory energy that reaches the machine and operator and withstands vibratory stress better than conventional rubber block isolators, extending the service life of the machine.

The C778B and C766C are equipped with turbo-charged, 125-horsepower Cumniins diesel engines, offering ample power for tough applications while maintaining exceptional fuel economy. The engine is transverse mounted and positioned low in the rear frame for ease of service, outstanding rear drum visibility and direction of heat and noise away from the operator's platform. Hydrostatic drive delivers smooth speed and directional changes with speeds infinitely variable from 0 to 5 mph in low range, and 0 to 10 mph in high.

For operator safety, all HYPAC compactors are equipped with standard Falling Object/Roll-Over Protective Structures (FOPS/ROPS) and seatbelts.

All checkpoints and filters on HYPAC's double-drum compactors are within easy reach, and pressure test ports have standard quick-disconnect capped fittings for effortless servicing. To extend the life of hydraulic components, oil passes through a high-efficiency, easily accessible, 5-micron filter. The ported hitch design on HYPAC compactors eliminates hose bundles found on most competitive units and protects the fuel supply line, electrical lines and hydraulic hoses from torsional stress damage.

For more information on performance-enhanced HYPAC C778B and C766C double-drum vibratory compactors, or HYPAC's full line of steel wheel, pneumatic, tamping foot vibratory, smooth drum vibratory or double-drum vibratory compactors, contact Compaction America, Inc., 2000 Kentville Road, Kewanee, IL 61443, call 309-853-3571, fax 309-852-0350, e-mail info.hypac@compactionamerica.spx.com or visit the HYPAC Web site at www.hypac.com.
More from Architectural & Civil Engineering Products