Vibration Spectrum Analyzer incorporates smartphone.
Press Release Summary: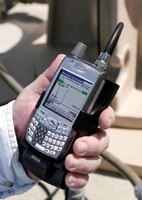 Suited for machine diagnostics and predictive maintenance, SiteConnex VSA-2215 combines handheld vibration analyzer/collector with Internet-enabled smartphone, enabling immediate connectivity between inspection site and decision site. Unit has max frequency of 20,000 Hz and FFT resolution up to 3,200 lines. Unit's SpectrumSC(TM) software collects, displays, and stores waveforms and vibration FFT spectra and provides overall vibration alerts.
---
Original Press Release:

Datastick Announces First Vibration Analyzer - Smartphone



First-ever handheld vibration analyzer plus smartphone - Datastick Systems, Inc., announces Datastick SiteConnex Vibration Spectrum Analyzer and Collaboration system (VSA) for machine diagnostics and predictive maintenance

Datastick® SiteConnex(TM) VSA(TM) system brings a new level of collaboration to machine maintenance colleagues viewing waveform and spectra measurement data, talking on the phone, emailing one another, and text messaging

CAMPBELL, CA, SEPTEMBER 12, 2007 - New Datastick SiteConnex system combines, for the first time ever, a powerful handheld vibration analyzer/collector with an Internet-enabled smartphone in a single instrument, enabling immediate connectivity between inspection site and decision site for fast collaboration, announced Michael Scandling, Vice President of Marketing, Datastick Systems, Inc. The new Datastick® SiteConnex(TM) VSA(TM)-2215 Vibration Spectrum Analyzer and Collaboration system for predictive maintenance and machine diagnostics is being demonstrated through Thursday at the Predictive Maintenance Conference in Las Vegas, and will ship within thirty days, he said.

"A maintenance technician or manager can collect and view vibration data in waveform or spectra on a vibration data collector/analyzer, email the data to a colleague, talk on the phone about the measurement results while looking at the results on the phone display, receive email or text messages from the colleague, and more - all with a single pocket-sized handheld instrument," said Scandling. "Your phone is now a vibration analyzer, and your vibration analyzer is a phone."

The VSA-2215 SiteConnex Vibration Spectrum Analyzer and Collaboration system is a high-performance handheld vibration analyzer / data collector. It has a maximum frequency of 20,000 Hz and FFT resolution of up to 3,200 lines. It displays overall vibration alerts according to ISO standards, or user-defined alert levels. It includes:
o New VSA-2215 hardware module that attaches to a Palm® Treo(TM) smartphone and has a standard BNC connector and low-noise input that accommodates and powers almost any ICP®-type piezoelectric accelerometer.
o New Datastick Spectrum(TM)SC handheld software with new Datastick ManagerSC handheld file-management software, new Datastick ReviewSC handheld data-comparison software, and new integrated email software for the handheld
o Revised Datastick Reporting System(TM) for VSA (DRS) software for Windows PCs, new Datastick Viewer instant email-attach-ment viewing software for Windows PCs
VSA packages include SD cards, sensors, ruggedized cases, extended battery kits and training. Datastick does not sell the Palm Treo or wireless plans.

Datastick SpectrumSC software for the handheld collects, displays, and stores waveforms and vibration FFT spectra and provides overall vibration alerts and cursor-display tools and much more. It displays peaks, overall vibration, colored alerts, and pop-up mode menus all on one high-resolution screen. Datastick Direct Zoom(TM) display lets the user select an area of interest on the screen with the handheld's stylus or a finger, and zoom up to 64 times. Measurement data is saved in the smartphone's internal memory or on SD memory cards with capacities up to 2 GB each. Vibration data can be exported to the desktop PC via Palm HotSync® technology or SD card - and now, by email from the smartphone.

Datastick Reporting System software for VSA (DRS) for the desktop or laptop PC, with new Datastick Viewer software, enables the recipient of the measurement data files that have been emailed to import them quickly into the Excel-based DRS program on the desktop, see the same data that the person sees on the smartphone VSA, write reports, publish to the web, and more.

"Developing the Datastick SiteConnex technology was one of the most challenging projects ever undertaken at Datastick, as it required integrating all the resources of the Palm Treo's hardware connectivity and smartphone capabilities with the Datastick vibration analysis technology on both handheld and PC," said Steve Sabram, President and Chief Technology Officer. "The result is a vibration analyzer / smartphone that will bring incredible convenience to customers using vibration analysis in machine-condition monitoring, predictive maintenance, and routine troubleshooting to reduce costs and downtime."

Penny Melrose, Datastick CEO, said, "Datastick once again breaks new ground by providing unprecedented efficiencies for inspectors, managers, troubleshooters, and consultants. Many companies do not have in-house vibration experts, or if they do, the expert is usually in a different location than the equipment undergoing test at any given moment. Datastick SiteConnex changes the ease with which team members interact by reducing the barrier of time and distance. Mobile computing for machine reliability takes a huge leap forward today."

More information is available at www.datastick.com

Datastick Systems, Inc., designs and develops innovative, cost-effective handheld test and measurement software and hardware for a broad range of industrial, research, environmental, and scientific markets. Datastick developed the first general-purpose data acquisition hardware and software system for the Palm platform. Customization of Datastick products is available for special applications. Datastick is located at 3350 Scott Blvd., Bldg. 50, Santa Clara, CA 95054-3123. Contact Datastick at (408) 871-3300, visit the web site at www.datastick.com, or email findout@datastick.com.

Datastick is a registered trademark and Datastick Spectrum, VSA, SiteConnex, Datastick Reporting System, and DirectZoom are trademarks of Datastick Systems, Inc. Palm and HotSync are among the trademarks or registered trademarks owned by or licensed to Palm, Inc. ICP is a registered trademark of PCB Group, Inc., Depew, New York. Microsoft, Windows, and Excel are registered trademarks of Microsoft Corporation. ICP is a registered trademark of PCB Group, Inc., Depew, New York.

Datastick Systems, Inc.
MEDIA CONTACT: Michael Scandling, V. P. Marketing
Phone: (408) 871-3300
Fax: (408) 871-3313
Email: findout@datastick.com

More from Computer Hardware & Peripherals