Vibration-Resistant SD Card Reader employs push-lock system.
Press Release Summary: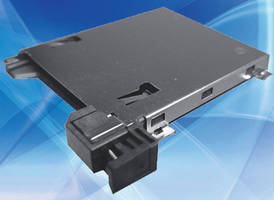 Suited for application in automotive or industrial markets requiring mechanical stability as well as resistance to shock and vibration, FPS009-4200-0(03) employs one-action lock mechanism. Spring automatically locks card into insert with ratchet hook on side, and operator pushes ratchet hook back to release card. Spring pressure pushes card out visibly for removal, and 2-point design secure contact reliability even at different vibration frequencies.
---
Original Press Release:
Vibration-Resistant Automotive SD Card Reader with Push-lock System
Munich - With the FPS009-4200-0(03), Yamaichi Electronics is bringing another innovative product to the market from the family of SD card readers. The FPS009-4200-0(03) was especially designed for applications with increased requirements for mechanical stability, shock and vibration resistance. This makes this push-lock reader perfect for applications like in the automotive or industrial markets. The special feature is the "one-action lock" mechanism. A spring automatically locks the card into the insert with a ratchet hook on the side. To release the card, you simply push the ratchet hook back. The card is unlocked and spring pressure pushes it out visibly for convenient removal. This interlock mechanism ensures secure card positioning even in the face of strong vibrations and shock. This function is supported by a special contact design. So-called 2-point contacts secure contact reliability even at different vibration frequencies, so electrical power is not interrupted. The extreme temperature fluctuations were also considered in the design. The materials were selected to guarantee use from -40 °C to +85 °C. The closed metal housing and the four grounding tabs also ensure particularly good EMC behaviour. The reader has a spiral spring to permit the smooth, quick insertion and removal of the card (about 100 plug cycles). The design also ensures that SD cards with dimensions in the upper or lower tolerance range are subjected to optimum contact pressure. The card reader supports cards that comply with the SDIO standard. Packaging and delivery is on tape reel belts. In addition to this component, Yamaichi Electronics offers many other card connectors for all available Flash and SIM card types, in different form factors, such as micro-SIM, microSD, CompactFlash, xD Card, multicard versions, etc. For any production queries, please contact: info-de@yamaichi.eu. About Yamaichi Electronics Yamaichi is a market leader for test & burn-in sockets, connectors and connection systems - areas in which reliability and function safety are essential for the success of the whole project. Yamaichi has established itself very quickly on the world market as a manufacturer of high-quality and reliable components for ambitious applications in the following sectors: photovoltaic, automotive, medical, semiconductor, telecommunications infrastructure, industrial automation, mobile computer technology, mobile telephones, GPS systems, printers, digital cameras, camcorders, as well as electronic devices in the retail trade, industry and electronics. Yamaichi Electronics in Europe: Yamaichi Electronics Deutschland GmbH Karl-Schmid-Str. 9, 81829 München, Germany Tel. +49 (0)89 - 4 51 09-0 Fax: +49 (0)89 - 4 51 09-110 info@yamaichi.de www.yamaichi.eu Yamaichi Electronics in the USA: Yamaichi Electronics USA Inc. 475 Holger Way San Jose, CA 95134 Tel: + 1-408-715-9100 Fax: + 1-408-715-9199 info@yeu.com www.yamaichi.us Further locations are listed on our websites.
More from Test & Measurement