Vibration Level Switch utilizes tiny tuning fork.
Press Release Summary: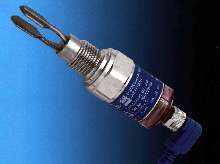 Liquiphant FTL 20 uses measuring fork to fit inside pipes as small as 1/2 in. It provides level measurement in all types of liquids, independent of electrical properties, turbulence, material build-up, solids content, suspended particles, gas bubbles, and external vibration. AS-i electronics allow integration to existing bus structures. AC or DC-PNP outputs are available. FTL 20 provides maximum and minimum detection in tanks and dry running pump protection in pipes.
---
Original Press Release:

Liquiphant FTL 20 New Vibration Level Switch for Liquids: Smallest Size on the Market


November 19, 2002, Greenwood, Indiana - Endress+Hauser announces the new Liquiphant FTL 20, a low-cost point level switch for liquids level measurement. The unique smaller size permits the tiny measuring fork to fit inside pipes as small as ½". Endress+Hauser is the only manufacturer to produce a level switch with a ½" process connection. Process connections are also available in ¾". The FTL 20 is a level measuring solution designed for applications where small size and low price are critical factors.

FTL 20 is the newest addition to the Endress+Hauser Liquiphant family of frequency shift tuning forks for reliable point level measurement of liquids. Endress+Hauser is the inventor of vibrating, or tuning fork technology. As the market and technology leader for tuning fork technology, Endress+Hauser has used this technology to make the FTL 20 a level sensor that is more rugged, has a longer, useful life and is free of maintenance or calibration.

The FTL 20 replaces float switches, capacitance probes, ultrasonic gap switches and conductivity probes. It provides a reliable level measurement in all types of liquids: independent of electrical properties, turbulence, material build-up, solids content, suspended particles, gas bubbles and external vibration. The FTL 20's switchpoint is not affected by liquids of varying density, viscosity, capacitance or conductivity; nor is it affected by foam, wide temperature and pressure shifts.

FTL 20 is the first Liquiphant available with AS-i electronics allowing simple integration to existing bus structures. It is also available with AC or DC-PNP outputs.

Ideal for maximum detection, minimum detection in tanks and dry running pump protection in pipes, FTL 20 is designed for applications ranging from factory automation to machine tool fabrication to general industry applications. Although the FTL 20 is not suitable for hazardous areas or sanitary applications,
Endress+Hauser has additional Liquiphant solutions for these applications.

For more information on the Liquiphant FTL 20 visit the Endress+Hauser website, www.us.endress.com, or contact us toll-free at 888-ENDRESS.

About Endress+Hauser
Endress+Hauser offers the broadest range of measurement technologies available from any one supplier in the world. Whether for level, pressure, volume or mass flow, density or analysis, Endress+Hauser can provide a single source for measurement solutions designed to suit our customers' application conditions. In addition, Endress+Hauser offers a complete line of process recorders and indicators. U.S. facilities are located in Greenwood, Indiana, with international headquarters in Reinach Switzerland.

Endress+Hauser Inc. o 2350 Endress Place o Greenwood, Indiana 46143
Phone 317-535-7138 o 800-428-4344 o Fax 317-535-8498

More from Software