Vibration-Free Islands protect sensitive equipment.
Press Release Summary: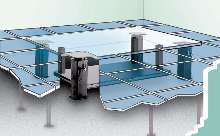 Installed at sub-floor level in raised-floor cleanroom, BaseMate islands deliver omni-directional vibration damping and automatic leveling. Products provide floor-level pedestal isolated from room's floor and vibrations as well as ambient building vibrations. Airmount system provides vertical isolation with 98% efficiency, while tri-filar pendulum assembly provides stable cradle support for horizontal isolation with 96% efficiency.
---
Original Press Release:

Vibration-Free "Islands" for Sensitive Equipment


BOSTON, MA - Custom-designed BaseMate Vibration-free Islands from Kinetic Systems protect sensitive equipment from vibrations. Installed at the sub-floor level in a raised-floor cleanroom or similar environment, the BaseMate Island provides a floor-level pedestal isolated from the room's floor and vibrations caused by nearby foot traffic as well as from ambient building vibrations caused by machinery, heating and ventilation systems, local truck or rail traffic, heavy weather, and other sources.

The most advanced system of its kind, a BaseMate Island offers omnidirectional, ultra-low-frequency vibration damping and automatic leveling. Its proprietary airmount system provides excellent vertical isolation, while the proprietary tri-filar pendulum assembly provides stable cradle support for enhanced horizontal isolation. Vibration isolation efficiencies at maximum load can be as high as 98% for vertical natural frequency and 96% for horizontal natural frequency.

BaseMate platforms make use of the latest advances in composite technology, incorporating corrosion-resistant metals and epoxies that are layered and laminated to produce further damping in addition to lightweight, rigid surfaces. The standard finish is black polyurethane, but to meet Class 10 cleanroom standards, platforms can be finished with either stainless steel or white epoxy powder coat. Nonmagnetic platforms are also available.

Economical as well as space saving, the BaseMate Island can be relocated if necessary, making it a practical alternative to a poured-in-place isolation pad.

Kinetic Systems, Inc., is a leader in the design, manufacture, and marketing of vibration isolation equipment, optical tables, and related components used in a wide range of industries worldwide, including research and development, quality control, laboratories, and semiconductor manufacturing. For more information, contact Thomas Hoarty, Director Marketing/Sales, Kinetic Systems, Inc., 20 Arboretum Road, Boston, MA 02131, TEL: (617) 522-8700, FAX: (617) 522-6323, E-mail: sales@kineticsystems.com, Web: www.kineticsystems.com.

More from Software