Vibrating Fork Liquid Level Switch offers 1 sec update rates.
Press Release Summary: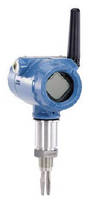 Available in 2 models covering temperature range of -94 to 500°F, Rosemount® 2160 IEC 62591 (WirelessHART®) Switch has no moving parts and is virtually unaffected by flow, bubbles, turbulence, foam, vibration, liquid properties, and product variations. Trending capability enables collection of data samples for specified device variable, while broadcasting function ensures that changes in process value, frequency of vibrating fork, battery voltage, or temperature are transmitted immediately.
---
Original Press Release:

Emerson Extends Level Control Capability of Smart Wireless Vibrating Fork Liquid Level Switch



Rosemount® 2160 IEC 62591 (WirelessHART®) level device offers faster response, improved diagnostics

AUSTIN, TEXAS -- Emerson Process Management has enhanced its Rosemount 2160 IEC 62591 (WirelessHART®) vibrating fork liquid level switch with faster update rates and advanced broadcasting functions to improve its suitability for critical level control applications. The 2160 also features improved diagnostic capabilities that help to reduce plant maintenance costs. Typical applications for the level device include overfill protection, high and low level alarms, pump control (limit detection), pump protection, and empty pipe detection.

The Rosemount 2160 level switch now provides one second update rates, extending the range of suitable level control applications to include fast moving applications, such as those found in batch filling. Wireless network redundancy and robustness enable customers to confidently extend their use to critical monitoring and control applications.

For monitoring applications, a unique trending capability enables the collection of data samples for a specified device variable. This reduces the number of transmissions over the wireless network, optimizing power module life. A new advanced broadcasting function ensures that changes in process value, frequency of the vibrating fork, battery voltage or temperature are transmitted immediately, thereby improving both safety and diagnostic capability.

The 2160 has no moving parts and requires minimal maintenance. The condition of the forks is continuously monitored to help identify corrosion, build up or damage. Plant-wide alerts can be configured to warn of changes in an instrument's status, giving operators advanced warning of any potential health problems.

Should an operator need to inspect the unit, a new 'squawk' feature helps operators identify a specific device. An integral LCD display showing switch output states and diagnostics provides real time, accurate verification of process conditions.

The 2160 liquid level switch is virtually unaffected by flow, bubbles, turbulence, foam, vibration, solids content, coating, liquid properties and product variations. It is designed for use in extreme temperatures and performs in harsh process conditions that are unsuitable for other switches. Two models are available, covering the temperature range -68° to 260°C (-94° to 500°F).

About Emerson Process Management

Emerson Process Management (http://www.emersonprocess.com), an Emerson business, is a leader in helping businesses automate their production, processing and distribution in the chemical, oil and gas, refining, pulp and paper, power, water and wastewater treatment, mining and metals, food and beverage, life sciences and other industries. The company combines superior products and technology with industry-specific engineering, consulting, project management and maintenance services. Its brands include PlantWeb(TM), Syncade(TM), DeltaV(TM), Fisher®, Micro Motion®, Rosemount®, Daniel(TM), Ovation(TM), and AMS Suite.

About Emerson

Emerson (NYSE: EMR), based in St. Louis, Missouri (USA), is a global leader in bringing technology and engineering together to provide innovative solutions for customers in industrial, commercial, and consumer markets around the world. The company is comprised of five business segments: Process Management, Industrial Automation, Network Power, Climate Technologies, and Commercial & Residential Solutions. Sales in fiscal 2011 were $24.2 billion. For more information, visit www.Emerson.com.

Contact:

Peta Glenister, Emerson Process Management

+44 (0) 1753 756649, Peta.Glenister@Emerson.com

More from Adhesives & Sealants