Viastore Systems' Designs and Installs a Foam Panel Assembly Line for Trane's Manufacturing Facility in Lexington, KY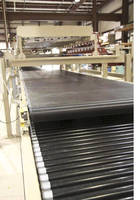 GRAND RAPIDS, MICHIGAN --- viastore systems, a leading automated material handling provider, installed a foam panel assembly line in Trane's Lexington, KY manufacturing facility.

Trane needed a more ergonomic and faster solution to assembling foam panels for their commercial air conditioning units. For such a large component, viastore systems designed and manufactured powered roller conveyor zones that are 5 feet wide and 10 feet long. There are a total of 66 zones, 38 of which are double decked to save floor space in an area where only half the panel is being worked on.

With a horse shoe layout there are also three double decked turn tables to move the panels around the corners of the conveyor system. Two panels travel together along the conveyor system. At the end of assembly Trane wanted an automatic way to flip one panel so it was oriented correctly to fit together with the other panel. viastore systems designed and manufactured a piece of equipment to flip the panel to the proper orientation.

viastore systems also integrated eleven (11) cameras to scan 2D bar codes on each panel to increase accuracy and reporting capabilities

viastore systems also has installations at Trane's Fort Smith, AR facility and the Vidalia, GA facility.

"This project was a success for viastore systems for multiple reasons. It was positive to complete another successful project with Trane. With Trane projects there is always a high content of equipment that we can manufacture in house and often there are custom pieces of equipment that we have the opportunity to design and build. This is the type of system that we excel at and we appreciate Trane choosing to work with us on this unique project." - Marc Gordon, President & CEO, viastore systems, Inc.

"viastore was a good partner in developing this system with Trane. They responded well to the challenges and we look forward to working with them again in the future." - Michael Parris, Lean Six Sigma Black Belt, Trane, Inc.

About viastore systems, Inc.

viastore systems, Inc. is a leading manufacturer of Automated Storage Retrieval Systems (AS/RS), Conveyor Systems and Software Solutions. Located in a modern 90,000 sq. ft. facility in Grand Rapids, MI, viastore systems, Inc. works closely with each client to develop full material handling system solutions.

viastore systems has developed and manufactured all types of Storage/Retrieval (S/R) machines as one of its primary product lines since 1970. Today, viastore systems is an international corporation with manufacturing facilities in Germany and the United States and subsidiaries in France, the Netherlands, the United Kingdom, Spain, and the Czech Republic.

About Trane, Inc.

Trane is a world leader in air conditioning systems, services and solutions; they control the comfort of the air for people in homes and many of the world's largest and most famous commercial, industrial and institutional buildings. Trane is also applying their expertise in environmental technology and energy conservation to make a difference in energy efficiency around the globe. Visit www.trane.com for more information.

For more information regarding viastore systems, its products or services, visit our website at www.us.viastore.com or contact us at info.us@viastore.com.

More from Agricultural & Farming Products