Vial Filling and Closing Machine processes 400 vials/min.
Press Release Summary: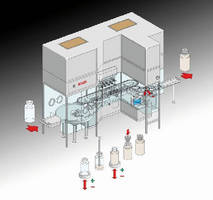 Featuring 100% in-process control, Model MLF 5088 can fill and close injection bottles in processing range of 2–100 mL. All vials are weighed directly before and after filling station, and machine automatically adjusts volume in case of deviating quantities. Utilizing combined filling station with 8 dosing heads, machine can work with piston, peristaltic, or rolling diaphragm pumps, as well as time-pressure filling system. Machine's stoppering station provides continuous operation.
---
Original Press Release:

Bosch Introduces New Vial Filling and Closing Machine MLF 5088



High output with 100 percent control




New member of MLF series for up to 400 vials per minute



Improved handling thanks to particularly slim design



For the first time with continuous-operation stoppering station



With the new filling and closing machine MLF 5088, Bosch Packaging Technology offers an output of 400 vials per minute with integrated 100 percent in-process control (IPC). The newly developed member of the proven MLF series is able to fill and close injection bottles in a processing range of 2 to 100 milliliters. The machine is suited to process pharmaceuticals in aqueous and low-viscosity solutions. "The new MLF 5088 demonstrates that high output is not opposed to best safety standards. Besides the machine's high performance, we managed to integrate 100 percent in-process control," said Dieter Bandtel, product manager at Bosch Packaging Technology. All vials are weighed directly before and after the filling station. By comparing both measurements, the absolute filling weight is determined. The machine automatically adjusts the volume in case of deviating quantities.



A new method, patent pending, places the containers very gently on the IPC scales. Due to the new slim design, the MLF 5088 is completely accessible from the front even with closed barrier. Pumps, for instance, can be safely and easily inserted at the filling stations. This leads to improved handling as well as highest possible product safety. Another innovation is the MLF 5088's container carrying and flow-friendly vial transport system, which is used in a 100 percent IPC machine for the first time. The vials are transported through the machine with format cells which guarantees a safe handling of the containers.



Proven systems newly combined

The MLF 5088 features a combined filling station with eight dosing heads. This enables the machine to work either with piston, peristaltic or rolling diaphragm pumps, or a time-pressure filling system, thus covering up to 99 percent of all filling systems in use for pharmaceutical machines. A combination with different barrier systems is also possible: The MLF 5088 is suited for restricted access barrier systems (RABS) and isolators, as well as closed RABS (cRABS) for toxic products and containment systems.



The MLF 5088 is the first machine of its series that is equipped with a continuously working stoppering station. "We traditionally use these for our FLC filling and closing machines. The experience of more than 200 machines showed us that this kind of stoppering is particularly reliable and safe," Dieter Bandtel explained. The transfer from intermittent to continuous transport is accomplished with the help of a segment wheel. This transfer is essential for the use of this kind of stoppering station. The MLF 5088 is suited for line integration. It can be combined with an upstream washing machine and sterilization tunnel and a downstream capping machine.



Based in Waiblingen near Stuttgart, Germany, and employing 5,000 associates, the Bosch Packaging Technology division is one of the leading suppliers of process and packaging technology. At over 30 locations in more than 15 countries worldwide, a highly-qualified workforce develops and produces complete solutions for the pharmaceuticals, food, and confectionery industries. These solutions are complemented by a comprehensive after-sales service portfolio. A global service and sales network provides customers with local points of contact. Additional information is available online at www.boschpackaging.com.



The Bosch Group is a leading global supplier of technology and services, active in the fields of automotive technology, energy and building technology, industrial technology, and consumer goods. According to preliminary figures, more than 306,000 associates generated sales of 52.3 billion euros in 2012. The Bosch Group comprises Robert Bosch GmbH and its more than 350 subsidiaries and regional companies in some 60 countries. If its sales and service partners are included, then Bosch is represented in roughly 150 countries. This worldwide development, manufacturing, and sales network is the foundation for further growth. Bosch spent some 4.5 billion euros for research and development in 2012, and applied for over 4,700 patents worldwide. The Bosch Group's products and services are designed to fascinate, and to improve the quality of life by providing solutions which are both innovative and beneficial. In this way, the company offers technology worldwide that is "Invented for life." Additional information is available online at www.bosch.com and www.bosch-press.com.



Contact:

Contact person for press inquiries:

Dieter Bandtel       

phone: +49 7951 402-362 



Christin Poenisch

Email: christin.poenisch@bosch.com

Phone: +49 711 811-5802

Fax:  +49 711 811-5850



More from HVAC