VHF Data Radio Modem complies with MURS regulations.
Press Release Summary: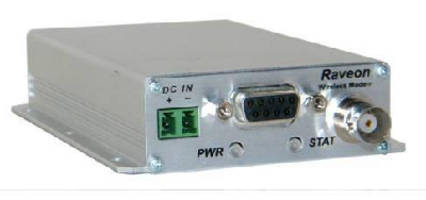 Suited for radio telemetry, SCADA, and AVL applications, Model RV-M7-VM is approved for use on 5 Multi-Use Radio Service channels in 151-154 MHz frequency range, which is designated by FCC as license-free. Unit features up to 2 W of RF output, communication range up to 30 miles, T-R switching time of 5 mS, and over-the-air data rates of 1,200-9,600 bps. Operating from 10-16 Vdc input, radio has remote Ping capability for connection testing and selectable RS232/422/485 interface.
---
Original Press Release:
Raveon Announces License-Free Data Radio Modem
Raveon Technologies announced a new 2 watt VHF radio modem compliant with MURS regulations. The 5 Multi-Use Radio Service (MURS) frequencies are designated by the FCC as license-free. Anyone may use a MURS approved radio without obtaining an FCC license for the channel. The 5 channels designated as MURS are in the 151MHz and 154MHz frequency range and because they allow up to 2 watts of RF power, the communication range with this radio modem is up to 50 times greater than other unlicensed technology such as Wi-Fi and spread-spectrum. Raveon has a Technical Brief (TB115) which outlines the use of the MURS frequencies for data applications. The new VHF M7 MURS data radio modem model RV-M7-VM, is ideal for radio telemetry, SCADA, and AVL applications. The M7's transparent protocol makes it plug-and-play in most applications. It features up to 2 watts of RF output; outstanding communication range of up to 30 miles; fast T-R switching time of 5mS for telemetry systems; remote diagnostics for quick maintenance checks; and programmable over-the-air data rates of 1200-9600bps. Each unit has remote "Ping" capability for convenient connection testing. Remote site management is made easy with built-in voltage, temperature, and current monitoring. Because the radio is approved for use on the 5 MURS channels, a user may quickly deploy a VHF telemetry system anywhere in the USA, without having to first obtain a license from the FCC. The M7's selectable RS232/422/485 interface allows it to interface to almost any telemetry system, PLC, GPS, RTU, or other data device. An optional internal GPS makes it ideal for AVL and asset tracking systems(see www.ravtrack.com/ for AVL applications with the M7). The M7 operates off of 10-16V DC input, and may be used in base-station or mobile applications. The M7 may be ordered with an IP65 weatherproof enclosure, and because it is the only radio modem built using rugged "single-board" construction, it is extremely tough - and cost effective. The new M7 MURS radio modem compliments the extremely popular M7 UHF series of Raveon wireless data modems, available in frequencies between 400-512Mhz. The addition of the new M7 VHF wireless data modem gives telemetry, SCADA, and AVL customers a broader range of system design options. About Raveon
Raveon Technologies Corporation is a wireless product design and manufacturing company located in North County San Diego, California. Specializing in off-the-shelf and custom wireless solutions, Raveon is committed to helping you connect your system with its easy-to-use data radio products. Raveon provides best-in-class products with exceptional customer service. For more information, visit Raveon on the Web at: www.raveontech.com.
Contact This Company Download Spec Sheet
More from Agricultural & Farming Products