VERYX® Digital Sorters feature Pixel Fusion™.
Press Release Summary: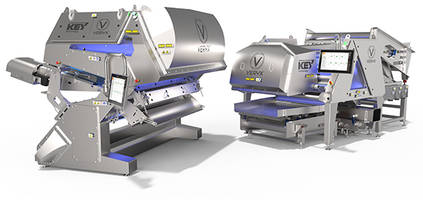 Available in various widths to provide small- to high-capacity production environments, VERYX® Digital Sorters designed with ideal sensor types, sensor positions, lighting and ejection system. Including auto-learning, self-adjustment algorithms, device is enabled to adapt normal changes in product or environment and performs without operator intervention. Featuring high resolution cameras, unit detects smallest defects and FM and eliminates blind spots.
---
Original Press Release:
Key Technology Introduces VERYX® Digital Sorters for Berries
Key Technology introduces VERYX® digital sorters for fresh and frozen berries. Featuring an innovative mechanical architecture, sustained all-sided surface inspection, next-generation cameras and lasers, unique multi-sensor Pixel Fusion™, a high-precision ejection system, specialized product handling systems and extreme ease of use, VERYX maximizes sorting accuracy. Tailored to each customer's application, VERYX chute- and belt-fed sorters increase foreign material (FM) and defect removal to enhance product quality while virtually eliminating false rejects to increase yield.
Ideal for blueberries, cranberries, blackberries, raspberries, strawberries and more, VERYX inspects fresh and individually quick frozen (IQF) berries as well as crumble and powder products. Recognizing each object's color, size, shape and structural properties, VERYX detects and removes soft fruit, broken berries, color-based defects and both organic and inorganic FM including stems, leaves, metal, glass, rocks, paperboard, plastics and rubber of any color.
"Small, delicate, high-value berries require very gentle handling and precise sorting to maximize product quality and minimize yield loss. At Key, we have a long history and deep expertise sorting fresh and frozen berries, which we leveraged when designing VERYX for these applications," said Marco Azzaretti, Advanced Inspection Systems Product Manager at Key. "The first installations of VERYX sorters for berries have been in production at locations around the world for several months now. These processors are reporting outstanding sorting results with VERYX."
The small size and high value of berries demand the advanced sorting capabilities that VERYX delivers. The highest resolution cameras and laser sensors on a digital sorter detect the smallest defects and FM. Up to 4 channels of information from the cameras and up to 8 channels from the laser scanner satisfy a range of application requirements, from basic to complex. Pixel Fusion™ is a patented advanced detection technology that combines pixel-level input from multiple camera and laser sensors to provide the clearest possible differentiation between good product, defects and FM. With Pixel Fusion, VERYX consistently removes difficult-to-detect stems and other foreign materials without 'false positives' (the incorrect identification of good product as defect or FM), ensuring the desired product quality and maximizing yield at the same time.
Available in various widths to accommodate small- to high-capacity production environments, VERYX offers a modular design that is configured with the ideal sensor types, sensor positions, lighting, ejection system, product handling and software to meet each processor's specific requirements. As future sorting needs change, the sorter can easily be upgraded in the field with additional or different sensor types to accommodate new customer requirements.
VERYX chute- and belt-fed sorters offer in-air inspection and the ability to view all sides of the product, including fruit with complex shapes such as strawberries. VERYX's 100 percent surface inspection virtually eliminates blind spots to maximize defect detection and removal. All-sided inspection is sustained throughout the production cycle without requiring manual cleaning, because VERYX's architecture strategically positions sensors, light sources and backgrounds away from product splatter and contamination zones.
Combining Key's expertise in sorting and product handling, VERYX sorting solutions for berries integrate specialized infeed and collection systems that gently handle fragile fruit without damage to preserve the product's integrity. Optimally conveying and controlling each object through the sorting process improves product stabilization to create a consistent trajectory through the inspection and ejection zones, which ensures ultimate accuracy in sorting out every piece of FM and defective product while avoiding the inadvertent removal of good product. Designing infeed and collection systems with the ideal operating parameters and surface characteristics for berries ensures gentlest handling so fresh fruit isn't bruised and frozen fruit doesn't chip or break.
As the world's most intelligent sorter, VERYX includes smart features such as auto-learning, self-adjustment algorithms, predictive system diagnostics, smart alarms and FMAlert™, which enable it to adapt to normal changes in the product and environment and perform without operator intervention. As result, VERYX can operate virtually unattended during normal production. Minimal sanitation requirements and simplified maintenance reduce downtime and the customer's total cost of ownership.
To further ease use and simplify operator training, Key developed an intuitive new UI working with Human-Machine Interface experts. The VERYX UI provides different views to users of various levels, depending on their needs. Recipe-driven operation and repeatable system calibration ensure customers can count on consistent performance from their VERYX sorter day in, day out, including running the same product across multiple sorters in different locations. For customers running multiple product types on the same system, the ergonomic VERYX UI enables the sorter to run a new product or grade at the touch of a button. Operator qualification requirements are reduced, allowing a minimally-skilled operator to become a proficient user of the technology in less than one hour.
VERYX features Key's Information Analytics, a set of data acquisition and connectivity capabilities that allow users to gather a broad range of product and operational data from the sorter. Data can be shared for off-line analysis or exchanged directly with a customer's SCADA, Manufacturing Execution System or PLC network.
Key manufactures VERYX in the U.S. and Europe to support customers worldwide.
For more information on Key's VERYX, visit www.key.net/products/veryx.
About Key Technology, Inc.
Key Technology (NASDAQ: KTEC) is a global leader in the design and manufacture of process automation systems including digital sorters, conveyors, and processing equipment. Applying processing knowledge and application expertise, Key helps customers in the food processing and other industries improve quality, increase yield, and reduce cost. An ISO-9001 certified company, Key manufactures its products at its headquarters in Walla Walla, Washington, USA; Beusichem, the Netherlands; Hasselt, Belgium; and Redmond, Oregon, USA. Key offers customer demonstration and testing services at five locations including Walla Walla, Beusichem, and Hasselt as well as Sacramento, California, USA and Melbourne, Australia; and maintains a sales and service office in Santiago de Queretaro, Mexico.
Reader Inquiries:
Anita Funk
Key Technology, Inc.
150 Avery Street Walla Walla, WA 99362 USA
Tel: +1 509 529 2161
Fax: +1 509 527 1331
Reader Inquiries:
Karel Van Velthoven
Key Technology, Inc.
Bedrijfsstraat 6b
B-3500 Hasselt, Belgium
Tel: +32 (0) 11 24 91 91
Fax: +32 (0) 11 24 91 99
More from Machinery & Machining Tools