Very Small to Very Long and Large Diameter Cleaning Rollers (Sticky/Tacky) Now Manufactured in Hiawatha Rubber's New Clean Room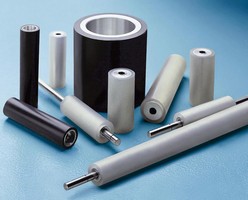 Minneapolis, Minnesota: Hiawatha Rubber adds a new Class 100,000 clean room facility for manufacturing cleaning rollers from very small up to 16 inches long and 5 inches in diameter. Sticky or tacky surfaces are custom made to meet each particular application requirement.

These cleaning rollers are custom designed for medical imaging systems, packaging equipment, and automated systems used in the manufacture of printed circuit boards, credit cards and photographic film. Helping to ensure production of a quality product, they remove dust and particulate at critical locations in automated systems. By preventing buildup of contaminants, these cleaning rollers facilitate longer system operation.

OEM system designers will find Hiawatha Rubber offers a wide range of cleaning roller options to meet their design needs. For example, the degree of roller tackiness can be specified from sticky to moderately sticky for different applications. Various size roller hubs and materials including aluminum can be used as well as specific outside hub diameters with defined run-out tolerances. Any length from 1 inch to 16 inches with diameters up to 5 inches can be specified.

To facilitate ordering and timely delivery, Hiawatha Rubber offers material formulation chemistry, CAD design tooling, injection transfer molding, CNC grinding and CNC machining of these cleaning rollers in both small and large quantities.

In addition to cleaning rollers, Hiawatha Rubber also specializes in custom close tolerance, precision ground roller assemblies. Manufacturing of these rollers can include services such as bearing assembly, plastic or metal gears, drilling and tapping components, precision journal grinding, plastic-to-rubber bonding, metal-to-rubber bonding, and segmented roller assembly.

Hiawatha Rubber is an ISO 9001:2000 manufacturer with program management and quality management systems to serve high technology industries. It has complete in-process quality control including computerized data collection utilizing laser micrometers and statistical process controls.

For more information, call 763-566-0900 and ask for FREE brochure.
See at www.hiawatharubber.com
Email: sales@hiawatharubber.com Or write to Hiawatha Rubber Co, 1700 -67th Avenue North, Minneapolis, Minnesota 55430-1786. Fax: 763-566-9537.

More from Packaging Products & Equipment