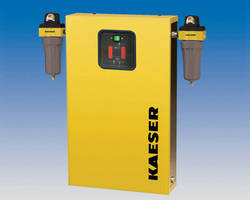 KADW desiccant dryer for small applications

Have a small application and need very dry air? Then Kaeser's wall mounted desiccant dryer - the KADW - may be right for you! With an expanded offering, the KADW lineup now provides capacities from 7-50 scfm at 100 psig. These dryers deliver precise, consistent dew-points as low as -100 ºF and are designed for easy installation.

KADW heatless adsorptive desiccant dryers feature a highly accurate solid state timer and are based on a counterflow design - resulting in the driest desiccant always at the top of the bed and the air leaving the on-stream tower at a consistently low dewpoint. These dryers are furnished in ready-to-mount cabinets, and are completely assembled, piped and wired at the factory. Plus, units are designed for easy connection to an optional Kaeser Oil Removal (KOR) prefilter and the Kaeser Particulate Filter(KPF) afterfilter.

For more information on how the KADW provides very dry air for small applications, please call 800-777-7873 or visit us at http://www.kaeser.com/cleanair.

More from Electronic Components & Devices