Vertical Turning Machine suits high volume gearbox production.
Press Release Summary: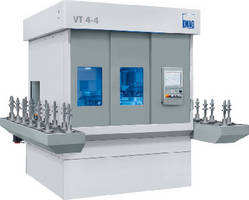 Suitable for machining components with max length of 41 in. and max diameter of 8 in., Model VT 4-4 carries out machining in 4 axes at max speed of 4,500 rpm. Process employs 2 turrets with 12 tool stations each, equipped with turning tools or driven tools, with one station reserved for gripper. Workpiece grippers move raw parts to machining area and remove finished components. In standard model, 2 recirculating conveyors accommodate up to 28 raw parts and 28 finished components, respectively.
---
Original Press Release:

VT 4-4 Vertical Turning Machine: Top Efficiency Rating in Large Volume Gearbox Production



According to a recent study by Roland-Berger, the automotive supplier industry will grow at a rate of approximately six percent in the next two years with competition intensifying. To gain an advantage, manufacturers must take a close look at the profitability of production sites. Component production must become faster, deliver high precision and show a greater degree of economic viability. EMAG's production solution is the VT 4-4 vertical lathe that delivers top efficiency levels in large volume gearbox production. 



For a number of reasons, the production of drive and gear shafts represents a very specific key task in the manufacture of automobiles. For one, many of their components are of a very detailed and highly complex geometry, on which so much depends. For instance, high-precision gearings ensure a highly effective torque transmission within the gearbox. Having high-precision shoulders and grooves allows for the safe connectivity of components. The efficiency of the powertrain as a whole depends to a large degree on the functionality of their shafts. These highly complex components are produced in batches of millions and on completion of the central turning work the shaft should ideally display a geometry that is as close to its final contour as possible. Tolerance production planners look for the micrometre range of the shaft.



To reconcile these high-performance requirements the turning specialists at EMAG have developed the 4-axis VT 4-4 vertical shaft turning machine. It opens up new potential in the machining of components with a maximum length of 41 inches and a maximum diameter of 8 inches with the following advantages:

• Simultaneous: Machining is carried out in 4 axes at a maximum speed of 4,500 rpm. The process employs two turrets with twelve tool stations each, equipped with turning tools or driven tools, with one station reserved for the gripper.

• Automated: Workpiece grippers move the raw-parts to the machining area and remove the finished components, i.e. one gripper inserts a new raw-part into the machine while the other gripper removes the finished component from it.



Guarantee reduction in unit costs

"This principle offers a great step up in performance in the production of shafts, especially in an environment that deals with large component volumes," explains Dr. Guido Hegener, Managing Director of EMAG Maschinenfabrik GmbH. "Due to the fast workpiece changeovers and powerful machining with four axes, cycle times are very short. Together with the integrated automation system, the process ensures that unit costs are kept to a minimum." In its standard model, the machine is equipped with two space-saving, recirculating conveyors that accommodate up to 28 raw-parts and 28 finished components respectively. Transfer and turnover units or robots ensure that a number of VT machines can be linked up both cost-effectively and with great ease.



Focusing on component quality

Of particular importance to the development engineers at EMAG is the quality of the components produced. For this purpose, the machine base is made of the polymer concrete MINERALIT®. It carries all technology modules: the powerful workspindle, turrets and the tailstock. Its rigid, vibration resistant construction guarantees an equally vibration resistant turning process which ensures high-quality surfaces and highly accurate geometries. EMAG's typical vertical alignment of the workpiece also guarantees constant process integrity, as the unhindered chip flow it offers prevents the accumulation of chips in the machining area.



"Last, but by no means least, we have also attached great importance to the ease of operation of these machines," emphasises Hegener. "After all, the human factor is a very important one when it comes to productivity. We want to make it as simple as possible for the operator." To achieve this, all relevant components, from electrics to hydraulics, including the cooling system,  are very easy to access with the user interface being of an intuitive, clearly laid out design.



A wide range of possibilities

The VT 4-4 opens up a wide range of possibilities for the production planner in gearbox manufacturing. Use of the machine is made even more economical by its compact design, with the vertical alignment taking up very little space. There is also no necessity for additional automation, as this is already an integrated part of the machine. 



Short cycle times, a high degree of flexibility and a small footprint summarize EMAG's new Modular Standard machine concept.  Hegener concludes, "With a very attractive price-performance ratio, the VT4-4 ingeniously complements our vertical shaft turning program. It is the reason why we believe our chances in the marketplace are excellent."



About EMAG

EMAG equipment covers the entire spectrum of machining processes in the metalworking industry, offering the latest technological advances in turning, drilling, milling, grinding, gear cutting, electrochemical machining, and laser welding. Active in the automotive, oil field, power generation and large equipment industries, EMAG is a trendsetter in the field of vertical turning and multi-functional production machines. The German based company has its US Headquarters in Farmington Hills, MI and is an important partner in the realization of complete manufacturing lines.



Public relations contact

Kristal Kilgore

EMAG L.L.C.

38800 Grand River Ave

Farmington Hill, MI 48335

Tel: 248.442.6719

Fax: 248.477.7784

e-mail: kkilgore@emag.com   

www.emag.com



More from Agricultural & Farming Products