Vertical Turning Center has flexible tooling system.
Press Release Summary: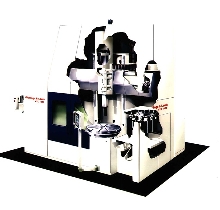 VTC Series includes 4 models, with chuck sizes from 1250 to 2500 mm, and swings to 2700 mm. Height under rail ranges from 1500 to 2500 mm. X-axis, heavy-duty, roller-bearing carriages ride on hardened and ground guide ways. Traverse rate is 787 ipm in both X- and Z-axis. Wedgelock tooling system accepts 50- or 60-taper tools and modular tooling. Other features include absolute linear feedback system, for immediate machine referencing, and travel limit switches.
---
Original Press Release:
Giddings & Lewis Introduces Four New Vertical Turning Centers - the VTC Series

Fond du Lac, WI-May 2002 -- Giddings & Lewis Machine Tools introduces new additions to the vertical turning center family, the VTC Series. While preserving many traditional G&L machine attributes such as power, rigidity and versatility, the new series adds capacity, technology improvements, a flexible tooling system and choice of controls. Competitively priced, the new VTC series meets the needs of a wide range of manufacturers.

Added capacity and improved accessibility

The smallest member of the new vertical lathe family, the VTC 1250, will be introduced at IMTS 2002, in Chicago, September 4 - 11. Four models of the VTC series are currently available with chuck sizes from 1250 to 2500 mm and swings to 2700 mm. Height under the rail ranges from 1500 to 2500 mm, accommodating an extensive variety of parts.

Operators and maintenance personnel appreciate the open workzone and accessible service panels of the VTC Series. Wide access in the part area facilitates loading and unloading of parts.

Proven Designs and Technology Improvements

The X-axis heavy-duty roller bearing carriages ride on hardened and ground guide ways. Roller packs offer a rigid, low-friction system which supports high loads and produces fast traverse speeds. The rapid traverse of 787 ipm in both X and Z-axes reduces cycle times. The addition of an absolute linear feedback system provides immediate machine referencing and eliminates troublesome reference and travel limit switches.

The high dynamic stiffness and superior damping of the Z-axis headstock and hydrostatic ram enable the machine to take precise, heavy cuts. The one-piece meehanite casting of the headstock is thermally symmetric which improves machining accuracy over a wide operating range. The large 9.8-inch square ram is capable of 100 hp cuts and is able to reach into 12.8-inch minimum bore diameters. The hydrostatic ram-guide is a non-contact, adjustment-free system that adds to the machine reliability.

Cross Slide elevation and clamping is hydraulically actuated and mechanically secured with 225,000 pounds of force per side. The system is simple, safe and accurate. The cross slide has an infinite number of positions and standard precision linear scales insuring accurate positioning and parallelism between the cross slide and table.

A popular cutting capability retained from earlier G&L vertical lathe designs is the full X-axis travel right and left of center. This feature allows probing of part diameters for improved part accuracy. In addition, the number of cutting edges is increased with the ability to cut from both sides of center.

The bearing capacity of the table is a substantial 180,000 pounds. The combination angular and roller thrust bearing design provides optimal cutting performance and part quality throughout the work envelope.

New WedgeLock Tooling System and Large Capacity Tool Magazine

The WedgeLock Tooling Concept, designed by Giddings & Lewis, is a stiff, versatile and cost-effective tooling system. The WedgeLock system, with 33,000 lbs. of clamping force, produces a rigid connection between holder and ram for heavy-duty metal removal. The large gauge line permits the use of boring tools up to 27.6 inches long for deep-part bores. Capable of accepting 50- or 60-taper tools and modular tooling, the WedgeLock design lets manufacturers use standard tooling, thereby reducing tooling costs. The system accommodates performance-enhancing attachments including live tooling for added machining capabilities.

The floor-mounted toolchanger puts tool loading and servicing at a comfortable height. Optional cassette-style tool magazines add up to 100 positions for tool storage and permit storage of additional Wedgelock systems and attachments in the tool changer.

High-performance controls and productive options

SIEMENS SINUMERIK 840D or GE FANUC 160i - manufacturers may choose the control that best fits their shop and manufacturing needs. The most popular controls worldwide, both offer high-performance standard features and productive options that optimize machining operations.

A C-axis table for full contouring, four-axis versions for simultaneous cutting, pallet shuttles for automated production, enclosures and probing are among the productive options available.

IMTS 2002

The VTC 1250 will be on display at IMTS in the Giddings & Lewis booth in the South Hall, booth A-8218, along with the latest G&L horizontal machining centers and boring mill.

Giddings & Lewis Machine Tools is located in Fond du Lac, Wisconsin. A member of the ThyssenKrupp Technologies global machine tool enterprise, Giddings & Lewis builds an extensive range of horizontal machining centers and boring mills from small 500 mm pallet machines to large traveling-column models. The vertical turning line covers lathes with 36-inch diameter tables through 15-foot swings. Complete machine tool rebuilding and retrofitting are among the after sales services offered by Giddings & Lewis Machine Tools.
More from Material Handling & Storage