Vertical Positioning Stage offers operational precision.
Press Release Summary: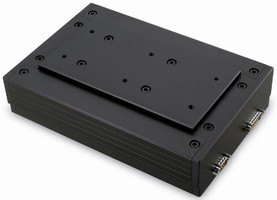 Manufactured from stable aluminum alloy, HT 16-LM incorporates compact piezo linear motor that drives 3:1 ratio wedge. Offering travel of 16 mm, with resolution of 33 nm and accuracy of 2 microns, and precision crossed roller bearings ensure smooth motion as well as rigidity. Weighing 5.5 kg, stage supports loads up to 50 N and has max speed of 20 mm/sec. Position feedback is provided via precision linear encoder with 0.1 µm resolution.
---
Original Press Release:

New Precision Vertical Stage HT 16 - LM



BURLINGTON, MA, March 15, 2008 --Steinmeyer, Inc. announced a new vertical positioning stage manufactured by its FMD division. The model HT 16-LM offers a travel of 16 mm with resolution of 33 nanometers and accuracy of 2 microns, making it ideal for wafer positioning! A compact piezo linear motor is used to drive a 3:1 ratio wedge. Precision crossed roller bearings ensure smoothness of motion and high rigidity. Manufactured from stable aluminum alloy, the HT 16-LM weighs 5.5 kg, and can support loads up to 50 Newtons! Maximum speed is 20 mm/sec and position feedback is provided by a precision linear encoder with 0.1 um resolution. Electrical interface to the motor and encoder is via two subminiature D connectors located on one end. Extra cost options include preparation for high vacuum and clean room operation.

This stage is ideal for applications in the Semiconductor, Fiber Optic, Medical/Life Sciences, and Optical industries.

The Steinmeyer group is comprised of three manufacturing divisions located in Germany. August Steinmeyer GmbH & Co. KG (located in Albstadt) has been setting standards for high precision ball screws for over 40 years and prides itself on high quality, innovative designs to meet demanding customer requirements. Our Feinmess Dresden (FMD) division has been producing an extensive line of high precision positioning systems for well over 130 years and our Feinmess Suhl (FMS) division has been manufacturing high precision gages and measuring systems for over 125 years!

For further information on this new product or others in our extensive product portfolio call 1-781-273-6220 or visit the Steinmeyer group at any of the following web sites: www.steinmeyer.com www.feinmess.de www.feinmess-suhl.de