Vertical Machining Centers offer high-speed CNC options.
Press Release Summary: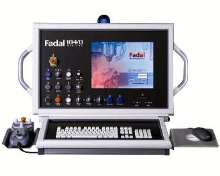 Digital Model 104/D CNC, with 850 MHz Pentium III processor, uses menu system to capture part, tool, and position data. Existing part programs can be run without editing. Control offers integrated 10BaseT/100 Ethernet, 2 Gb data storage capacity, and 15 in. LCD display. GE Fanuc Series 18i MB5, with 5-axis capability, provides straightforward operator interface and interactive screens. Siemens Sinumerik 840D, suited for high-speed moldmaking, includes ShopMill for milling and drilling.
---
Original Press Release:

Fadal Machining Centers to Demonstrate: Three High-Speed CNC Controls at IMTS Booth #A-8218


High-Speed Control Options Include Fadal 104/D digital CNC, GE Fanuc Series18i MB5 CNC and Siemens Sinumerik 840D CNC

CHATSWORTH, CALIF - JULY 20, 2004 - Fadal Machining Centers today announced three high-speed CNC standard options, including the new Fadal digital 104/D CNC, GE Fanuc Series18i MB5 CNC and Siemens Sinumerik 840D CNC. Each of the high-speed CNC controls will be demonstrated on a Fadal VMC 4020 at IMTS Booth #A-8218. The high-speed CNC controls are standard options available on Fadal VMC's at no additional cost.

The Fadal 104/D digital CNC uses a menu system to capture part, tool and position data and is compatible with all Fadal controls. Existing Fadal part programs can be run on the new control without any editing. Additional software features include Quick Code, part rotation & scaling and limitless variable and user-defined macros. An 850 MHz Pentium III processor enables the high speed 104/D digital CNC to demonstrate a ten times increase in cutting feed rates without deviating from part tolerances. The increases in cutting feed rates are complemented by the control's ability to run DNC 100 times faster through an integrated 10base T/100 Ethernet. Standard features include increased - 2GB - data storage capacity, eliminating the need for expensive expanded memory. A larger and brighter 15" LCD display, 101 PC keyboard and mouse. Other standard features include two USB ports for data transfer or the use of external devices, and a 3.5" floppy drive and Remote Manual Pulse Generator (RMPG).

The GE Series18i MB5 CNC combines a very robust processor with simultaneous five-axis capability. It features Manual Guide i software, which provides an easy-to-understand and straightforward operator interface, interactive screens and powerful machining functions. With a few keystrokes and within a third of the time required on a standard CNC ISO environment, it is possible to input, test and execute a program. A machining program can be simulated in the 2D or 3D solid model view, displaying the cutting path and tooling. Standard G code programs can be animated, too. The Series18i MB5 CNC delivers a number of advances, such as eliminating bottlenecks and reducing machine tool cycle time with a fast processor, 2-MB memory and Fanuc Serial Servo Bus (FSSB) that connects the CNC to multiple servo amplifiers over a single high-speed multi-drop fiber optic connection.

The Siemens Sinumerik 840D CNC was designed for high-speed moldmaking operations. It features ShopMill for milling and drilling, which minimizes setup time by reducing workpiece programming and tool measurements to a few button pushes. The 840D CNC delivers comprehensive control of high-speed machining with look-ahead, dynamic feed forward and programmable acceleration, especially useful in high-speed contouring operations. The control delivers faster program execution speeds for a smoother surface finish when contouring at high spindle speeds. With smoothed acceleration, wear on mechanical parts is reduced and travel response optimized, enabling higher performance and longer service life. A contouring mode, with programmed corner rounding, enables faster machining of corners, reducing cycle time.

For more information contact: Fadal Machining Centers, 20701 Plummer Street, Chatsworth, CA 91311, phone 818/407-1400, fax 818/407-0020. www.Fadal.com.

ABOUT FADAL MACHINING CENTERS:
Fadal manufactures three lines of VMCs (Performance Series, Standard Series, Remanufactured Series), HMCs, multiple CNC controls and a full line of rotary tables, indexers and pallet shuttle systems. Fadal VMCs range from 20" x 16" to 65" x 35" table size (80" travel available with 30-inch Y) and are utilized for cutting a broad range of materials, such as steel, titanium, aluminum, plastics and wood. Extensive training and support programs are offered by Fadal, which include 24-hour response technical support teams and a global network of distributors trained to deliver world-class after-sales support.

Today the Fadal brand name has worldwide recognition with more than 35,000 Fadal VMCs proving their value in factories around the globe. Fadal trains and works with distributors in most major industrial countries and has a manufacturing facility in Shanghai, China, which build Fadal VMCs for internal consumption. In addition, the company's European sales offices are located in Ludwigsberg, Germany. Fadal is the first machine tool builder to offer standard features like a 10,000 RPM spindle, an upgradeable CNC control and a refrigerated cooling system for positioning elements (COOL POWER). For more information about the company visit www.Fadal.com.

About ThyssenKrupp MetalCutting
The ThyssenKrupp MetalCutting Group includes a strategic alliance of Cross Hüller, Hüller Hille, Giddings & Lewis, Hessapp, Fadal and Witzig & Frank for serving customers with global operations and regional markets. Customers include the automotive industry and its supplier operations, aviation and aerospace, medical engineering and the energy industry, mechanical engineering, tool manufacturing, mold making and job shops.