Vertical Machining Center targets moldmakers/subcontractors.
Press Release Summary: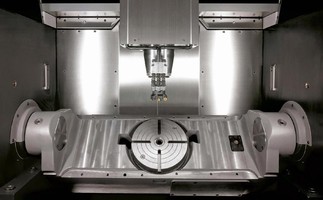 Model B 300 5-axis vertical machining center features 5 m/s² acceleration in linear axes, 6 sec chip-to-chip tool change from 30-station magazine, and 15,000 rpm/19 kW spindle to assist when machining deep cavities. Linear axis travels are 800, 600, 500 mm for X, Y, and Z axis, respectively, rapid motion in linear axes is 30 m/min, and 2 rotary axis movements are 360° for various configurations of rotary table and ±110° for trunnion, maximum speeds being 15.5 and 10 rpm, respectively.
---
Original Press Release:

Entry-Level 5-Axis Machining Centre to Make World Debut



Aimed at mouldmakers as well as subcontractors that want to break into 3/5-axis CNC machining of high-added-value components in the aerospace, medical and motorsport sectors, German machine tool builder, Hermle, has introduced the entry-level B 300 vertical machining centre. The fourth and fifth axes are provided by a rotary table mounted on a swivelling trunnion, as on the manufacturer's more highly specified C-Series machines.

Sole sales and service agent in the UK, Geo Kingsbury Machine Tools, will be showing the machine on its stand at MACH 2008 for the first time anywhere in the world, albeit Hermle is staging a concurrent in-house event at its factory and headquarters in Gosheim, Germany, where the machine will also be exhibited.

Precision and reliability of the B 300 are equivalent to those of the C-series machines, but cost is 20 per cent lower. Small sacrifices have been made in terms of slightly slower machine movements and a reduced number of optional extras that can be fitted. However, compared with the C 30 model, the X-axis travel has been increased to give a 23 per cent larger working volume.

Linear axis travels are X: 800 mm / Y: 600 mm / Z: 500 mm and all three move the tool, so it has been possible to locate the guideways and digital servo drives above the machining area to protect them from contamination. Rapid motion in the linear axes is 30 m/min. The two rotary axis movements are 360 degrees for various configurations of rotary table and ± 110 degrees for the trunnion, maximum speeds being 15.5 and 10 rpm respectively. Simultaneous interpolation of all the axes by the Heidenhain iTNC 530 CNC system provides full 5-axis machining capability.

As with all Hermle machining centres, the new model has the patented arrangement of three staggered Y-axis guideways, one central to, and set back from, the outer two. This effectively halves the Y-axis span and gives stable traverse using three-point support combined with a single drive in line with the central carriage on the gantry. A mineral casting bed also promotes stable, vibration-free machining, particularly as the bearings for the trunnion are set directly into cast holes in the sides of the bed.

High productivity results from 5 m/s² acceleration in the linear axes, fast rotary axes, six seconds chip-to-chip tool change from the 30-station magazine, and a 15,000 rpm / 19 kW spindle with a slim profile to assist when machining deep cavities. There is a choice of 40-taper and HSK A 63 tool interfaces.

For users that do not have collision detection as part of their CAM software, Hermle provides a novel safety system. If a cycle is incorrectly programmed so that the spindle hits the workpiece or table in rapid traverse, six mounting bushes with collapsible sleeves crumple and absorb the energy just long enough for the shock to be detected and the machine stopped. The spindle is saved from damage and needs only to be remounted with six new bolts.

Other features of the machine are a compact footprint and three-point support, avoiding the need for foundations. The maximum component weight of 250 kg supported by a 5-axis B 300 can be increased to 1.5 tonnes if a user opts for a 3-axis version of the machine with a 1,000 x 560 mm fixed table.

More from Material Handling & Storage