Vertical Machining Center suits small-component manufacturing.
Press Release Summary: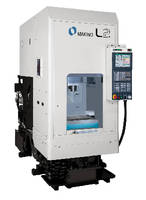 Designed for high-volume, small-part manufacturing, Model L2 features 33.46 x 83.86 in. footprint and X, Y, Z travels of 15.74 x 11.81 x 11.81 in. Integrated A-axis rotary table and automatic pallet-change system accommodate workpieces up to 16.26 x 10.51 x 8.46 in. A-axis provides 6 integral ports for hydraulics and pneumatics to support fully automated fixtures. Equipped with 16,000 rpm, HSK-A50 spindle, machine has 30-tool ATC that accommodates tooling up to 3.14 in. in dia and 9.84 in. long.
---
Original Press Release:

Makino L2 Delivers High Productivity, High Precision in High-Volume Production Applications



Compact vertical machining center provides optimum solution for small-component manufacturing



Mason, Ohio -- Makino is proud to introduce the L2 vertical machining center designed for high-volume, small-part manufacturing. Combining a rigid construction, compact footprint and flexible spindle design, the L2 offers a highly stable and reliable machine platform for fully unattended, around-the-clock part processing.



"The minimal floor-space design and wide range of highly productive standard specifications make the L2 an ideal solution for any type of high-volume, small-component processing," said William Howard, vertical product line manager at Makino. "Given the small size of the machine, it can be effectively employed in virtually any type of workpiece flow arrangement, ranging from manual part transfers to automated part movement facilitated by robotic systems. The L2 can be deployed to meet the specific needs of any manufacturing environment."



The L2 vertical machining center features a compact footprint of 850mm wide by 2,130mm long (33.46 inches by 83.86 inches), including cooling tank. The X-, Y- and Z-axis travels on the machine are 400mm by 300mm by 300mm (15.74 inches by 11.81 inches by 11.81 inches). A standard, integrated A-axis rotary table and automatic pallet-change system can accommodate workpiece sizes up to 413mm by 267mm by 215mm (16.26 inches by 10.51 inches by 8.46 inches). The A-axis provides six integral ports for hydraulics and pneumatics to support fully automated fixtures. An optional fixed-table configuration without pallet-change system is also available, and can accommodate a maximum workpiece size of 413mm by 267mm by 215mm (16.26 inches by 10.51 inches by 8.46 inches).



Highly Precise, Highly Productive Design

Non-cut times, including positioning and chip-to-chip times, are dramatically reduced with rapid traverse rates of 48,000mm/minute (1,890 inches/minute) and acceleration rates of 2.0G, 1.5G and 1.7G in the X-, Y- and Z-axes respectively. The standard A-axis rotary table and automatic pallet changer further enhance productive capabilities, providing 3-second pallet changeovers to maximize spindle utilization and machine productivity. Configured with 0.05-micron scale feedback and the highly rigid machine design, the L2 machine is both quick and highly accurate.



Standardly equipped with a 16,000-rpm, HSK-A50 spindle, the L2 accommodates a wide range of applications. Through-spindle, nozzle, overhead shower and even fixture wash coolant systems provide quick and efficient evacuation of chips from the machine work area. Completing the process, a strategically placed, center trough chip conveyor rapidly removes the chip from the machine. Additionally, the L2 features a 30-tool-capacity automatic tool changer that can accommodate tooling up to 80mm (3.14 inches) in diameter, 250mm (9.84 inches) in length and 5 kg (11 lbs.) in weight. An optional 8,000-rpm spindle configuration is also available.



Unattended and Automated Processing

The A-axis rotary table facilitates access to multiple sides of the workpiece in a single setup, and the automatic pallet changer delivers a fast 3-second pallet change. Outfitted with wide, front-access, automatic doors, the L2 is quick and convenient for manual loading applications, and ready for integration into a wide variety of automated load and unload arrangements.   



The L2 is designed for simple and easy integration within a variety of automated transfer and loading configurations, including exterior loading arms, gantry loaders, and fixed or movable robot loaders. These automated configurations help maximize the capabilities and value of the L2, resulting in higher production rates, shorter lead-times, reduced labor costs and saving significant floor space.



With Makino automation integration services, manufacturers are able to combat fierce pricing pressures from low-labor-cost countries by providing complete automated cells and systems. Whether demands call for simple machine tending or complex, high-volume robotic cells, Makino's automation integration services offer the equipment, skills and manpower necessary to reduce labor costs, increase throughput, ensure and enhance part quality, all while retaining the flexibility to adapt quickly to changing volumes or new parts.



To learn more about Makino Automation and Engineering Services and automation solutions for the L2, visit www.makino.com/engineering-services.



About Makino

A world leader in advanced CNC machining centers, Makino is committed to providing high-performance, leading-edge machining technologies and innovative engineered process solutions that enable manufacturers to focus on making what matters. Makino offers a wide range of high-precision metal-cutting and EDM machinery, including horizontal machining centers, vertical machining centers, 5-axis machining centers, graphite machining centers, and wire and sinker EDMs. Makino's flexible automation solutions provide reduced labor costs and increased throughput in a variety of production volumes and designs. Makino's engineering services offers industry-leading expertise for even the most challenging applications across all industries. For more information, call 1-800-552-3288 or visit makino.com. 



For more information, additional images and releases, visit makino.com/media. Connect with Makino on Facebook at facebook.com/makinomachine. Follow Makino on Twitter at twitter.com/makinomachine. 

More from Chemicals & Gases