Vertical Machining Center employs Fanuc 31i-A5 CNC.
Press Release Summary: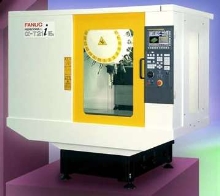 With feedrates to 1,181 ipm and rapid traverses to 2,125 ipm, 30-taper E Series RoboDrill is suited for drilling and tapping, milling, boring, and deburring. It comes with 14- or 21-station tool changer and choice of 5/7.5 hp, 10,000 rpm or 2/5 hp, 24,000 rpm spindle. Featuring thermal compensation and HRV control, unit delivers positioning accuracy of 0.0002 in. and repeatability of ± 0.000080 in. Machines are offered in 3 sizes with working cubes to 27.5 x 15.7 x 12.9 in.
---
Original Press Release:

30-Taper VMC Has New Control for Faster Contouring


SUDBURY, MA - A true machining center with 21 tools, a more rigid spindle, and beefier construction, the new E Series RoboDrill provides milling performance unmatched in a 30-taper machine. In fact, this super heavy-duty 30-taper machine offers performance typically three to five times that of competitive machines and comparable to that of some 40-taper machines. It also offers exceptional versatility: lightning-fast drilling and tapping; excellent high-speed milling comparable to much larger machines; precision boring; and high-speed deburring. In addition, the RoboDrill E is capable of rigid tapping to 8000 rpm, peck tapping for blind holes, and high-speed reverse tapping (up to twenty times faster than infeed). Speed and versatility make the RoboDrill ideal for offloading larger, slower machines as well as for performing secondary operations, regardless of production volumes. The RoboDrill E comes standard with a 14- or 21-station tool changer and is available with a choice of 5/7.5 HP 10,000 rpm or 2/5 HP 24,000 rpm spindles. With feedrates to 1181 ipm, rapid traverses to 2125 ipm, accelerations to 1.5 G or more, and 0.9-second tool changes (tool-to-tool), it is typically 30-50% faster than standard machining centers.

With precision-enhancing thermal compensation and HRV control, the RoboDrill boasts positioning accuracy of 0.0002" and repeatability of ± 0.000080". The sophisticated Fanuc 31i-A5 CNC has an optional 1000 block "look-ahead" and a 0.4 ms block processing speed, ensuring exceptional surface finishes over contours.

To meet different machining and space requirements, RoboDrill E Series machines are available in three sizes with working cubes up to 27.5" x 15.7" x 12.9". Model a-T14iES is a 300 V size machine with only 40" width and 14 tools. The Model a-T21iE is a 500 V size machine with 21 tools, and the Model a-T21iEL is a 700 V size machine for larger work. Options include a fourth or fifth axis, coolant through spindle, a spindle measuring probe, and a laser tool setter.

For even greater productivity, the RoboDrill can be equipped with a pallet-changer system or a high-speed 6-axis robot. With a PC-2 Pallet Changer system, the RoboDrill offers the quick changeover flexibility of a stand-alone machine plus the productivity of a pallet shuttle. Unlike lazy-Susan-type machines, the PC-2 system can also be used as a fixture changer for low-volume production runs. Mounted at the side of the RoboDrill, the pallet changer allows fixture and part setups on one pallet while parts are being machined on a second. With its high-speed 6-axis robot, the RoboCell provides fast load/unload cycle times and the ability to stage virtually an entire shift's parts, making uninterrupted, unattended machining practical and affordable. Software permits robotic feeding from rows, columns, or layers.

Methods Machine Tools, Inc., has been a supplier of precision machine tools and accessories for over 45 years. Methods is the exclusive North American source for Fanuc RoboDrill vertical machining centers, providing installation, parts, service, and training through a nationwide network of dealers.

For more information, contact: John Crean, RoboDrill Product Manager, Methods Machine Tools, Inc.,
64 Union Avenue, Sudbury, MA 01776, TEL: (978) 443-5388, FAX: (978) 440-9405, www.methodsmachine.com.

More from Software