Miscellaneous Storage Equipment
Vertical Lift Modules promotes access to stored items.
Press Release Summary: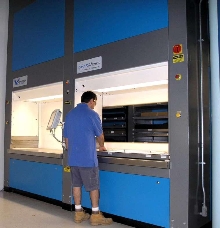 SMARTdepot(TM) LX is configured with one delivery window that may be located on floor or within any of 2, 3, or 4 storage bays. SMARTdepot Marquis comes with dual-delivery window configuration, where openings may be located on front or back of machine or within any of 2, 3 or 4 bays. Design enables 2 or more users to simultaneously access items from same inventory. Both machines utilize Cross-bay(TM) technology to facilitate item retrieval from all bays.
---
Original Press Release:

Diamond Phoenix Introduces New Vertical Lift Module Configurations


Lewiston, Maine - May 2, 2005 - Just two years after unveiling the SMARTdepotTM Multi-bay Vertical Lift Module, Diamond Phoenix is pleased to offer two new models of this vertical storage solution. Both the "LX" and "Marquis" configurations offer even more benefits to customers, including increases in productivity and storage area.

The SMARTdepot "LX" Vertical Lift Module is configured with a single delivery window. This window may be located within any of the two, three or four storage bays and/or on any floor. Because there is only one opening in the machine, storage space is increased. The patented Cross-bayTM technology also provides users with greater access to products, as items may be retrieved from all bays of the machine.

The second model, the SMARTdepot "Marquis" Vertical Lift Module, comes standard with a dual-delivery window configuration. Again, these openings may be located within any of the two, three or four bays, on any floor, and may be on the front or back of the machine. Additional delivery windows may be added to meet the customer's unique requirements. The Marquis model increases productivity, as two or more users may simultaneously access items from the same inventory, and product accessibility is increased because items are retrieved from two or more locations.

"The unique design of our multi-bay vertical lift module, in combination with the flexibility of the LX and the Marquis models, allows us to provide the right vertical solution for each and every one of our customers," states Paul Roy, Product Manager.

Diamond's SMARTdepot Multi-bay Vertical Lift Module (VLM) with patented Cross-bay technology was first introduced in 2003 as a way to provide customers with the best system features available for a vertical storage unit today. Its multi-bay design maximizes storage space and minimizes operational complexity. In addition, the Cross-bay technology allows product in any storage bay to be delivered to an operator at any workstation.

The SMARTdepot VLM also includes safety and security options with the SmartAccessTM Profile System, which allows each user to have unique settings identified by their personal user ID. These settings may include: preferred workstation heights, personal tray locations, unique languages, and restricted tray locations for security purposes. The SMARTdepot operates on a Windows 2000 platform and can easily be interfaced to many WMS systems or other Host architectures.

The Diamond SMARTdepot VLM provides significant space savings when compared to a more traditional static shelving system. Storage density increases can result in floor space recovery of more than 75%. Picking productivity can also be increased by up to 2.5 times because walking and searching times are significantly reduced or eliminated. Finally, the "never-wait" tray queuing feature of the SMARTdepot keeps the user busy picking rather than waiting for the next item.

For more information, visit www.diamondphoenix.com.

Diamond Phoenix is the industry leader providing integrated materials handling solutions for order fulfillment systems. Diamond Phoenix is headquartered in Lewiston, Maine with offices in Philadelphia, PA, Charlotte, NC, Salt Lake City, UT, Grand Rapids, MI, Los Angeles, CA, Cincinnati, OH, Cleveland, OH, Atlanta, GA, and London, England. For more information about Diamond Phoenix products and services, go to www.diamondphoenix.com.

More from Architectural & Civil Engineering Products