Automated Storage/Retrieval Systems (AS/RS)
Vertical Lift Module offers crane and pallet handling.
Press Release Summary: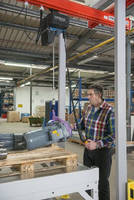 Equipped with integrated overhead crane, Shuttle XP 1000 stores and retrieves heavy loads or bulky goods at ergonomic height. Electrically powered crane places parts directly in trays of VLM and can be maneuvered into position in front of access opening to pick up goods from floor or from pallet. Also capable of handling full pallet storage, Shuttle XP 1000 meets specific requirements of mechanical engineering, automotive, oil and gas, and maintenance industries.
---
Original Press Release:

Kardex Remstar Shuttle XP 1000 Offers Crane & Pallet Handling



Storing and retrieving heavy loads or bulky goods generally takes manpower and heavy equipment. With the new Shuttle XP 1000, Kardex Remstar supplies an overhead crane mounted on the unit for easy handling of heavy goods. In addition to crane handling, pallets can also be stored within the Shuttle XP 1000. The integrated crane handling and pallet storage and retrieval capabilities leads to improved efficiency and ergonomics as well as space savings during production and maintenance.



This new  Vertical Lift Module (VLM)  with integrated crane handling, meets the specific requirements of the mechanical engineering, automotive, oil & gas and maintenance industries. The integrated crane – unlike a hall crane – is permanently available. As such, waiting times are a thing of the past for warehouse and production staff, as is the need to keep an additional unit on hand for storing and retrieving goods.



Parts can be securely stored and retrieved at an ergonomic height. The parts are placed directly in the trays of the Shuttle XP 1000 with the help of the crane. The crane is powered electrically and connected to the load profile of the Shuttle XP 1000. It can be maneuvered into position in front of the access opening to pick up the heavy goods from the floor or from a pallet.



The Shuttle XP 1000 also offers the capability to handle full pallet storage. Thanks to the "pallet to person" principle, throughput can be increased by at least 50%. The distances driven and walked by warehouse personnel are cut dramatically and the goods can be found and retrieved more quickly. Mistakes are also avoided when retrieving goods. The Logicontrol machine control system from Kardex Remstar is integrated as standard to facilitate simple and straightforward warehouse management.



The compact design of the dynamic storage system reduces the size of the footprint needed for storage by up to 80%. The reclaimed floor space can then be used to expand other revenue generating activities.



Dynamic storage systems from Kardex Remstar are suitable for integrating into an assembly line, guaranteeing just-in-time retrieval of store parts, such as motors, pumps or valves. In the mechanical engineering, automotive or oil & gas industries, the Shuttle XP 1000 not only demonstrates its strength in production areas, but also in the area of maintenance. It also proves beneficial for third-party logistics (3PL) due to the small amount of space it needs and the organized storage and retrieval of goods.



Kardex Remstar, LLC, a company of the Kardex Group is a leading provider of automated storage and retrieval systems for manufacturing, distribution, warehousing, offices and institutions. For information about our dynamic storage solutions, call 800-639-5805 or visit www.kardexremstar.com.



Kardex Remstar Media Contact:

Chelsea Tarr

Marketing Communications Coordinator

207-591-3172

chelsea.tarr@kardexremstar.com

More from Fluid & Gas Flow Equipment