Miscellaneous Storage Equipment
Vertical Lift Module holds up to 132,000 lbs.
Press Release Summary: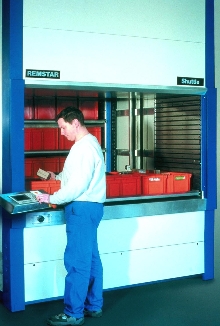 Shuttle(TM) XP Vertical Lift Module (VLM) can reach up to 65 ft tall. It features CubeStar Technology, which combines controls, dual level tray spacers, and shelf rails within unit to scan every tray's height and automatically store it using least amount of space within 1 in. increments. Design offers 24 or 34 in. deep trays. Every user can set unit to present trays to their preferred ergonomic height.
---
Original Press Release:

New Shuttle XP VLM Provides Industrial Industries with Increased Storage Capacity, Productivity & Ergonomics


Remstar International has introduced its new Shuttle(TM) XP Vertical Lift Module (VLM) which provides industrial industries increased levels of storage density, transaction speeds, and
operator ergonomics.

The new design allows users to store all their dynamically within the VLM using one inch increments which provides up to 50% more capacity per VLM. Remstar's CubeStar Technology combines controls, dual level tray spacers and shelf rails within the unit to scan every tray's height and automatically store it using the least amount of space within one inch increments. The standard Shuttle XP VLM can also now hold up to 132,000 lbs and reach up to 65 feet tall to maximize storage cube.

The Shuttle XP VLM's inserter/extractor speeds are up to 65% faster than similar VLMs. A single shift facility can use this increased speed to recover almost three days per year of
increased operator productivity.

Operator ergonomics has been addressed by designing the new VLM with easily accessible 24 inch deep trays, or a unit with 40% more storage capacity and 34 inch deep trays, each with a foot opening so the operator's feet can be comfortably closer to the material reducing reach, and no overhead barriers. Additionally, every user can set the unit to present trays to their preferred ergonomic height. The operator simply programs their preference into the controls and when they log on the VLM knows what height (within one inch increments) is this operators preferred height. When the next operator logs on, the unit delivers to their height automatically.

Remstar International Inc., a company of the Kardex AG Remstar International (KRI) Group of Zurich, Switzerland, is a leading provider of automated storage and retrieval systems for manufacturing, distribution and warehousing applications. For more information on Remstar's Shuttle XP VLM call 800-639-5805 or visit the Remstar web site at www.Remstar.com.

Remstar International Inc. 41 Eisenhower Drive; Westbrook, ME 04092; TEL 800-639-5805; 207-854-1861; FAX 207-854-1610;
Remstar.com; Remstar.com/videos; A Company of Industrieholding Cham AG

More from Electrical Equipment & Systems