Miscellaneous Storage Equipment
Vertical Lift Machine offers multiple pick windows.
Press Release Summary: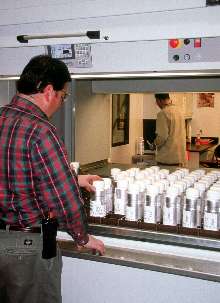 Shuttle(TM) VLM provides vertically arranged trays, computerized controls, and ergonomically designed extraction platform, which delivers requested tray to any pick window. Multiple pick windows allow organizations to link multiple floors/work zones and receive materials on one level and extract them on another without sorting and duplicating inventory. Multiple windows provide queuing and sequencing of parts, kits, or completed orders. Modular design is fully customizable.
---
Original Press Release:

Multiple Pick Windows Add Flexibility to Remstar Shuttle VLMs


Multiple pick windows can increase productivity, space savings and ergonomics for facilities utilizing Remstar Vertical Lift Modules (VLMs) in industrial storage and retrieval applications.

The Shuttle(TM) VLM is an enclosed system of vertically arranged trays, computerized controls and an ergonomically designed extraction platform, which delivers the requested tray to any pick window. Multiple pick windows allow industrial equipment organizations to link multiple floors and/or work zones to improve existing floor space utilization and reduce the amount of time employees spend searching for and transporting material from one work zone to another.

Utilizing the multiple pick window design, industrial facilities can receive materials on one level and extract them on different work zone levels without sorting and duplication of inventory. Multiple pick windows permit buffer storage of materials or orders from one work zone to another. They also provide queuing and sequencing of parts, kits or completed orders for consolidation or shipping. Item returns can also be handled more efficiently with multiple pick windows since they can be received in one area and removed in other work zone for repackaging, quality checks, repair, or accumulation.

The modular design of the Shuttle VLM allows it to be configured to meet varying ceiling heights. Small footprint and standalone design make the Shuttle VLM especially suitable for point-of-use storage. Depending on useable building interior heights, 75 percent and more of a conventional storage system's occupied floor space can be recovered. Several Shuttle VLMs can be placed side-by-side or back-to-back to form a compact, efficient automated storage and retrieval cluster.

The Shuttle VLM is fully customizable. Users can select a number of options to meet specific storage needs, including tray sizes up to 3,200 mm wide, forklift access to pallets stored in the unit, partitions, divider systems for compartmentalizing, and frame and divider systems to increase the wall heights of trays to store bulk quantities.

Remstar International Inc., a company of the Kardex AG Remstar International (KRI) Group of Zurich, Switzerland, is a leading provider of automated storage and retrieval systems for electronics, aerospace, automotive, metalworking, distribution, health care management, and government applications. For more information on the Remstar Shuttle VLM, call 800-639-5805 or visit the Remstar web site at www.Remstar.com.

Remstar International Inc.
41 Eisenhower Drive o Westbrook, ME 04092 o TEL 800-639-5805 o 207-854-1861 o FAX 207-854-1610
www.Remstar.com o Remstar.com/videos o A Company of Industrieholding Cham AG

More from Adhesives & Sealants