Vertical Honing Machines feature multi-feed technology.
Press Release Summary: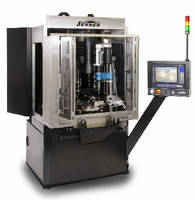 Available on SV-1000 and SV-500 Series, multi-feed technology combines controlled-force tool-feed with controlled-rate feed system, allowing user to select best option for workpiece geometry, material, and tool type/size. Controlled-force honing ensures optimum cutting load on honing abrasive throughout cycle and eliminates glazing, while controlled-rate tool feeding is typically used with plated-diamond CGT honing tools, which use sleeve of abrasive for full contact with bore surface.
---
Original Press Release:

A First in Honing - New Multi-Feed Technology Offers Choice of Tool Feed Methods to Optimize Cycle Time, Abrasive Life, Part Finish



Choice of tool-feed methods allows selection to suit workpiece geometry, material and tool type/size

Sunnen's new patented multi-feed honing technology gives users a revolutionary choice of tool-feed modes to achieve the shortest cycle times, lowest part cost, and longest abrasive life. Multi-feed combines Sunnen's new controlled-force tool-feed with its controlled-rate feed system. The two different tool-feed modes allow the user to select the better option to suit the workpiece geometry, material and tool type/size. Multi-feed technology will be demonstrated at IMTS, and is available as an option on new machines in Sunnen's SV-1000 and SV-500 Series, as well as a retrofit for existing machines in these series.

Controlled-force honing, a new feature in multi-feed, works like cruise control to ensure the optimum cutting load on the honing abrasive throughout a cycle, irrespective of the incoming part's hardness, geometry or size variation. Depending on the application, controlled-force honing cuts cycle times by as much as 50 percent, lengthens abrasive life for lower consumable cost, and allows finer control of surface finish parameters than ever before possible. Controlled-force technology eliminates glazing of the abrasive, due to too little force, and maintains a steady, free-cutting, self-dressing condition for maximum metal removal in the shortest possible cycle time.

"In our development work, we found that more-durable abrasives could often be used, resulting in more parts per set of abrasives and lower cost per part," said Dennis Westhoff, Sunnen's Global Business Development Manager. Controlled-force is an ideal choice for applications using segmented diamond or superabrasive honing tools, or where incoming workpieces have slight variations in hole diameters, hardness and geometry. "An established honing process can be thrown off balance because of incoming part variations caused by upstream machining, heat treating or plating," Westhoff explains. "Controlled-force honing always maintains optimum feed force on the honing abrasive under these conditions to eliminate wasteful "air cutting," glazing or tool damage. The beauty is that if conditions allow, for example with a batch of parts requiring less stock removal, the honing cycle will be shortened significantly and automatically." Controlled-force's ability to control the cutting load within a very fine range also allows much tighter control of final surface finish parameters. "We have been able to cut the variation of final surface finish measurement by half or more," Westhoff added. Controlled-force honing works with Sunnen's MMT, PH and new KRQ tools.

Controlled-force honing is an enhancement of Sunnen's controlled-rate system for tool wear compensation, which is already capable of adjusting tool size in increments as fine as 0.1 µm (0.000010"). Controlled-rate tool feeding is typically used with plated-diamond CGT honing tools, which use a sleeve of abrasive for full contact with the bore surface. CGT tools are frequently used on cast iron and powder metal workpieces, segmented bores, or parts with multiple lands, ports, keyways or crossholes in the bore. Sunnen's machine control provides up to five feed expansion profiles that can be used during a cycle for rapid part touch, cutting, sizing, finishing and spark-out.

For additional information on Multi-Feed honing, contact: Sunnen Products Company, 7910 Manchester Rd., St. Louis, MO 63143. Tel: 1-800-325-3670; fax: 314-781-2268 or email sales@sunnen.com.


More from Machinery & Machining Tools