Vertical Extruder features balanced weight distribution.
Press Release Summary: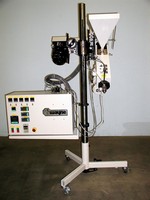 Yellow Jacket Vertical Extruder has motor positioned on opposite side of extrusion processing section, allowing balance and use of double reduction helical gearboxes with shaved ground and hardened gears. Featuring timing belts, AC Flux Vector Drive, auto tune temperature controls, and bimetallic barrels, unit can be adjusted with hand wheel from 0-90° tilt. Single post series is available in various sizes from ½-1½ in., and double post for 2 and 2½ in. sizes.
---
Original Press Release:

New "Yellow Jacket" Vertical Extruders for Coextrusion



The New Yellow Jacket Vertical Extruder series from Wayne Machine feature excellent balanced weight distribution to help prevent "tip overs", which are a major safety problem with vertical extruders. Typical vertical extruders with in-line gearboxes have all the weight of the mechanical section on one side of the post. The motor is positioned on the opposite side of the extrusion processing section, resulting in a more balanced weight distribution. This design also allows the use of double reduction helical gearboxes with shaved ground and hardened gears, instead of inefficient soft gear worm or enveloping worm-type gearboxes which are typically found on direct drive vertical extruders. The helical gearbox enables delivery of more power to the screw, less wasted energy converted into heat from friction, and therefore less abrasive gear wear than is found in worm drives. Processors are now able to run engineering and highly filled resins in co-extrusion applications, which require high levels of screw torque. The extruders also process PE, PVC, EVOH, PP, TPR, Silicone, Rubber, Food and most thermoplastics. A high temperature / anticorrosive package is also available for TEFLON FEP, SARAN, ETFE, PFA and liquid crystal polymers. The new single post series is available in 1/2", 5/8", 3/4", 1", 1-1/4 ", 1-1/2" and double post for 2" and 2.5" sizes. The units feature timing belts for easy speed range changeovers, AC Flux Vector Drive, auto tune temperature controls, bimetallic barrels and optional remote stations. The units are ideal for co-extrusion of sheet, tubing, profile, rod, blown film, cast film, fiber, monofilament, and wire insulation applications, since they have a narrow footprint and can be adjusted with the hand-wheel from 0 degrees to 90 degrees tilt. Motorized height adjustment is optional.

For more information contact:

Dr. Joseph V. Scuralli, President
Wayne Machine & Die Company
100 Furler Street
Totowa, NJ 07512-1896 USA
Phone: 973-256-7374
Fax: 973-256-1778
Email: jscuralli@waynemachine.com
Web: www.waynemachine.com


More from Machinery & Machining Tools