Vertical Conveyors move up to 40 loads/min.
Press Release Summary: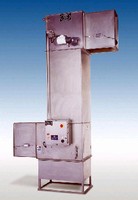 Offered in single direction or reversible versions, Stainless Steel Continuous Vertical Conveyors accept load horizontally, convey it vertically, and discharge it horizontally, all in non-stop operation with loading and unloading in Z pattern. Five models are available with unit load capacities from 5-4,000 lb, vertical travel up to 80 ft, and chain speeds of 120 fpm. Fully automatic conveyors are suited for packaging, food, pharmaceutical, and cosmetic industries.
---
Original Press Release:

TKF Stainless Steel Continuous Vertical Conveyors Deliver High Speed Service With Up To 40 Loads A Minute



CINCINNATI, OH (December 7, 2005) - TKF, Inc. Stainless Steel Continuous Vertical Conveyors, providing high speed up-and-down service with up to 40 loads a minute, have proven ideal for the packaging, food, pharmaceutical, and cosmetic industries.

Clean, safe TKF Stainless Steel Conveyors offer numerous cost-efficient benefits, including simple, low-maintenance design, a wide selection of standardized units from modular components, and fully automatic operation.

The space-saving TKF Stainless Steel Continuous Vertical Conveyors, which cut floor space requirements by up to 90 percent, are perfect for operations where food, baking, dairy, meat, pharmaceutical, or cosmetic products are being conveyed.

All TKF Stainless Steel Continuous Vertical Conveyors are designed to accept a load horizontally, convey it vertically and discharge it horizontally, all in a continuous non-stop operation with loading and unloading in a Z pattern. Systems may be single direction or reversible, as required.

Powered conveyors synchronized to the lift platform speed are used in loading and unloading, and are designed for the specific product to be handled, using roller, belt or chain.

Five standard models are available, with unit load capacities ranging from 5 lbs. to 4,000 lbs. and vertical travel up to 80'. The infeed height should be at least 18" to 28" but can be lower if a pit is used.

TKF Continuous Vertical Conveyors utilize chain speeds of 120 fpm, which provides output up to 40 loads a minute, depending on overall product dimensions. Each load is carried on a moving platform fastened between continuous loops of chain.

The platform carrier is unique in that it is rigid in the horizontal load carrying position, yet flexible in the opposite direction, allowing it to rotate around the sprockets to travel in minimum space on the return phase of each cycle.

In addition, TKF can provide complete turnkey systems, from design through installation. Highly experienced TKF engineers recommend, design, manufacture and install entire handling systems, integrating overhead conveyors, vertical conveyors, various types of special equipment and all necessary controls on a turnkey basis.

Though they are assembled from pre-engineered modular components, TKF Continuous Vertical Conveyors are customized for each individual application and built entirely to customer specifications to give you a custom solution in a short timeframe.

TKF specializes in the design and manufacture of engineered conveying systems for the automotive, packaging, appliance, food/drug preparation, cosmetic and other manufacturing and processing industries. TKF conveyor types include vertical, accumulation, carousel, overhead, and transfer units.

For more information about TKF Stainless Steel Continuous Vertical Conveyors, contact TKF, Inc., 726 Mehring Way, Cincinnati, OH 45203, at (513) 241-5910, Fax (513) 651-2792, e-mail sales@tkf.com or visit our web site at www.tkf.com.

http://tkf.com/TKF_Products_Page.htm

More from Packaging Products & Equipment