Vertical CNC Honing Machine targets small 2-stroke engines.
Press Release Summary: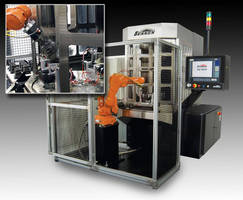 Able to size and finish hard-coated small-engine cylinders to micron-level accuracy, SV-1000 Series utilizes TC superabrasive tools designed for blind, ported cylinder bores. Modular system is designed for part diameters from 0.120-2.56 in., and includes 10 hp, 100-4,000 rpm spindle. Measuring 95 x 91 x 107 in., unit includes servo-controlled stroking drive and load-sensing tool feed system that senses where and how much to hone bore. Fully automated versions can support up to 4 spindles.
---
Original Press Release:

New Honing System for Small Two-Stroke Engines Helps Maximize Power Output and Durability with Reduced Emissions



Capable of sizing and finishing hard-coated small-engine cylinders to micron-level accuracy, complementary TC tooling is ideal for blind, ported bores.

Sunnen's new SV-1000 Series vertical CNC honing machine is designed for manufacturers of outdoor power equipment striving to improve the durability and power output of small two-stroke engines and help meet the 2011 EPA standards. Using TC superabrasive tools - custom designed for blind, ported cylinder bores - the manual or auto-loaded honing machine produces cylinders with micron-accurate size, geometry and exact surface finish to enhance combustion efficiency, engine durability and power output, with reduced emissions. TC abrasive tools are ideal for cylinders plated with chrome, Nikasil and other hard coatings. Servo tool compensation, coupled with optional automatic post-process air gaging on the machine, delivers high process capability in an automated manufacturing environment.

Designed for part diameters from 3-65 mm (0.120-2.56 inch), the SV-1000 is a modular system capable of mounting multiple spindles to handle roughing and finishing operations. The basic single-spindle SV-1000 module is designed for future automation with removable side enclosure panels to facilitate flow-through part processing. It is available with a fixed tooling plate or servo rotary table with 12-position rotary air union for fixture control. An industrial PC control ensures reliability and an easy support path with software-based updates and commercially available replacement parts. The machine's cast-polymer base provides excellent vibration damping and structural rigidity.

Fully automated versions of the SV-1000 can be specified with the servo rotary table or linear part transfer, integrated part handling systems, and up to four spindles. For unmanned cellular processing, the SV-1000 can be equipped with integrated post-process air gaging to provide closed-loop control of bore size and geometry, along with downloadable SPC data and feedback control. Post-process air gaging with one to four servo columns can provide size, taper, and straightness feedback control. Matched with Sunnen's TC multi-stone mandrels, the air-gage-equipped machine can automatically control bore size to submicron accuracy, eliminating the need for a skilled operator to tweak the process. A match-honing package can also be added.

The new machine features two patent pending innovations - a servo-controlled stroking drive that responds smoothly to motion profiles generated by the control, and a load-sensing tool feed system that minimizes processing time by sensing where and how much to hone the bore. The new stroking drive provides the highest level of flexibility and consistency in spindle reciprocation to allow a new level of process optimization.

The vertical design of the SV-1000 conserves shop floor space, requiring just 2400 x 2300 x 2700 mm WxDxH (95 x 91 x 107 inch). The high-torque, belt-driven spindle is rated at 7.5 kW (10 hp) to cover a wide range of sizing and finishing work at speeds of 100-4000 rpm.

For custom processing cells, Sunnen can provide post-process inspection and sorting of parts to the submicron level, along with special tooling, fixturing, robotic integration, part orientation, gaging, and other options integrated into purpose-designed systems based on individual customer requirements.

Additional information for the SV-1000 series is available from Sunnen Products Company, 7910 Manchester Rd., St. Louis, MO 63143. Tel: 1-800-325-3670; fax: 314-781-2268 or email sales@sunnen.com.


More from Services