VertexCore™ Filter Elements come with multi-layer construction.
Press Release Summary: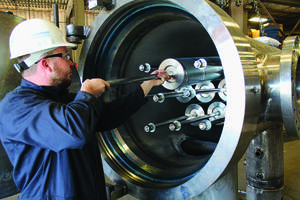 Meeting ANSI/CAGI 400 test standards, VertexCore™ Filter Elements offer removal efficiency down to 0.3 micron at 99.98% with 0.1PPMW maximum carryover. Designed with fixed extension which is welded to element end cap, VertexCore's extensions and hold down rods facilitate element replacement and barrier to operator entry. Product is suitable for use in power generation, oil and gas industries.
---
Original Press Release:
Filter Elements Provide Safer Changeouts, Greater Efficiencies for Gas Processing Industry
Clark-Reliance Corporation has announced a new line of coalescing filter elements for the gas processing industry. The new VertexCore™ filter elements have been designed to eliminate unsafe filter element changeout techniques while increasing filtration efficiencies. VertexCore elements have a fixed extension that is welded to the element end cap, which allows maintenance staff to easily remove and replace elements without exposing their head, shoulders, torso or legs to a confined space. This design feature eliminates the widespread behavior of climbing into or reaching into filtration pressure vessels to remove or replace elements. The VertexCore extensions and hold down rods, while facilitating element replacement, also provide a barrier to prevent operator entry, a positive reinforcement to confined space safety regulations. More information is available at http://crfiltrationsolutions.com/vertexcore/.
VertexCore coalescing filter elements feature multi-layer construction to maximize efficiency, with third party testing confirming they meet ANSI/CAGI 400 test standards. Removal efficiencies are down to 0.3 micron at 99.98% with maximum carryover of 0.1PPMW. Because they are more efficient, VertexCore elements can be retrofitted to existing pressure vessels to eliminate carryover created by inadequate element spacing of standard elements.
VertexCore coalescing filter elements are designed for critical use applications in the power generation, oil and gas industries or wherever gas processing occurs.
Clark-Reliance manufactures a broad offering of filtration, separation and coalescing equipment for the natural gas industry as well as fluid purification equipment for industrial use. Clark-Reliance's Anderson Separator brand manufactures mechanical separators, coalescing separators and filter separators to remove liquids and solids from gas flows. Oil Filtration Systems manufactures purification systems for oils and fuels that remove contaminants such as water, particulate, entrained gas, varnish and acid. National Filtration Systems manufactures custom-engineered industrial filtration and separation systems for demanding applications. In addition to filtration equipment, Clark-Reliance is a leader in boiler level and process level indication and control. The company's well-known brands constitute the broadest line of level instrumentation for boilers: Jerguson® liquid level gages and valves, Jacoby-Tarbox® sight flow indicators, Reliance® boiler level controls Magne-Sonics® level measurement and control products, Ernst Flow Industries and Clark Steam Specialties.
For more information, call +1 440 572-1500 or visit http://www.clark-reliance.com. The company is located at 16633 Foltz Parkway, Strongsville, OH 44149. Email: sales@clark-reliance.com.
More from Mechanical Components and Assemblies